☑ Part 1. What Makes Amazon Music Stand Out So Well?
Wondering why Amazon Music gathers a large crowd of subscribers all over the world? Let's list down what Amazon Music subscribers value most.
🔹 Diversified Music Library:
Amazon Music provides a vast library of more than 100 million songs, which provides consumers with a wide range of choices and satisfies various music tastes. Whether it's pop music, classical music, rock, electronic music, or world music, it can all be found on Amazon Music.
🔹 Intuitive Interface:
Amazon Music's interface design is extremely user-friendly, allowing users to easily explore and search for music. Its clear and easy-to-read layout and intuitive and convenient operation allow users to easily browse a variety of music content and discover new artists, albums, playlists, podcasts, and more. At the same time, it will also intelligently recommend corresponding music based on the user's listening history and preferences, bringing users a more personalized music experience.
🔹 Compatibility Capable:
Amazon Music boasts excellent compatibility, and is accessible through multiple platforms including iOS and Android apps, Mac and Windows desktop apps, as well as web browsers. Additionally, it can be seamlessly integrated with Echo and Fire TV devices, further enhancing its convenience and versatility.
🔹 Interactive-Enabled:
To facilitate better communication among users and barrier-free sharing of favorite music, Amazon Music supports the creation of shareable playlists to build a more personalized music platform.
Amazon Music provides diversified subscription options, ranging from the free basic plan to the paid premium plan, each offering users unique value. This attribute, combined with its strong competitive edge in the market, positions Amazon Music as a formidable player in the streaming music industry.
---
☑ Part 2. Requirements for Downloading Songs from Amazon Music
To download songs offline from Amazon Music, you need to meet the following conditions:
1. Have a valid Amazon Music Unlimited or Amazon Prime account.
Amazon Prime subscribers can only download All-Access playlists for playback purposes. If you plan to download full categories on Amazon Music, you can upgrade to Amazon Music Unlimited or follow the steps in Part 4 to convert the Amazon Music to local files even without the Unlimited Plan.
2. Ensure a good network connection.
3. Have enough storage space on your mobile device or computer.
4. Make sure your device's operating system version is not lower than the following requirements:
If you want to download music on Apple devices, you need to run iOS 8 or higher version of the system.
If you want to download music on Android devices, you need to run Android 4.4 or higher version of the system.
If you want to download music on Kindle Fire devices, you need to run Fire OS 3.6 or higher version of the system.
---
☑ Part 3. Download Amazon Music for Offline Playback
🔹 Download Amazon Music on Android/iOS/PC:

If you want to listen to your favorite songs from Amazon Music without an internet connection, you can download them for offline playback. Here are the steps to do that:
Step 1: Open the Amazon Music app on your phone or computer, then log into Amazon Music with a Prime or Unlimited plan.
Step 2: Move to a song and then right-click on it, you will see more options on a pull-down menu. Tap on "Download" to trigger the process.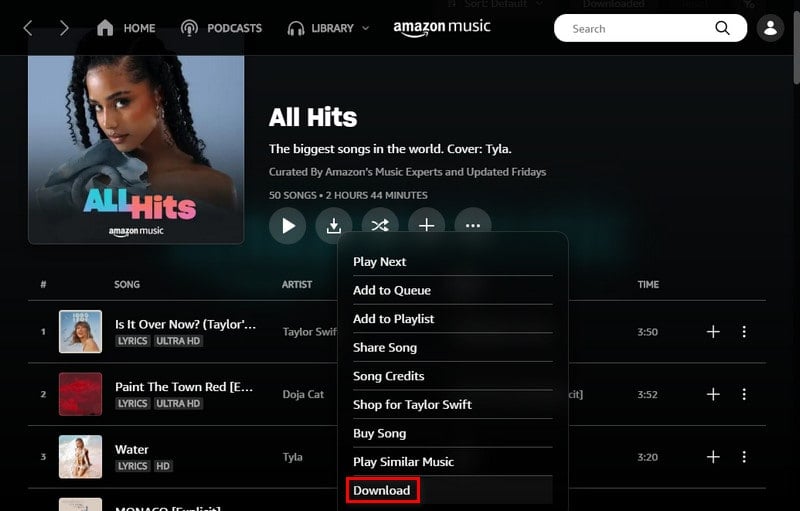 Step 3: If you want to download an album, playlist, or podcast, click on its cover then choose "Download". Besides, you can open the album or playlist, and then click on the "More Options (three dots)" icon next to it. Then you will see the "Download" option, click on it to start downloading music.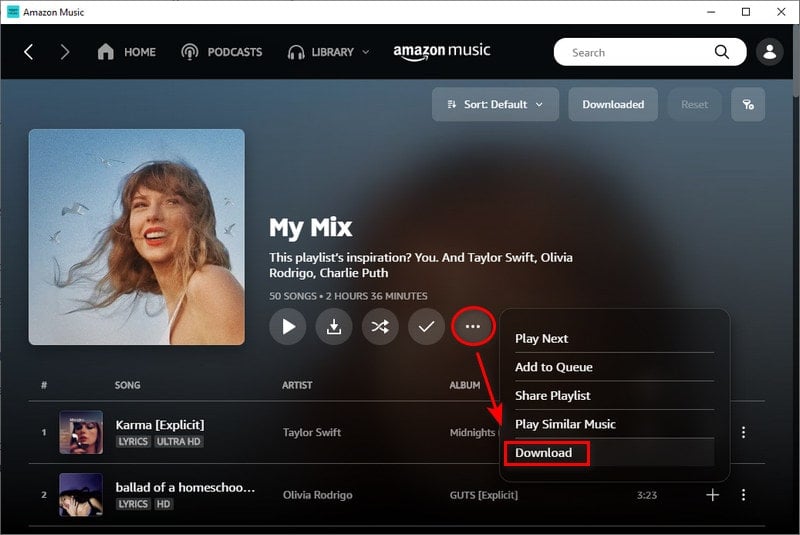 Step 4: To play the downloaded songs, go to the "Library" section, and select "Downloaded" in the filter menu to only see the items that are available offline. Amazon Music sorts the downloaded tracks into five categories: RECENTS, PLAYLISTS, ARTISTS, ALBUMS, and SONGS.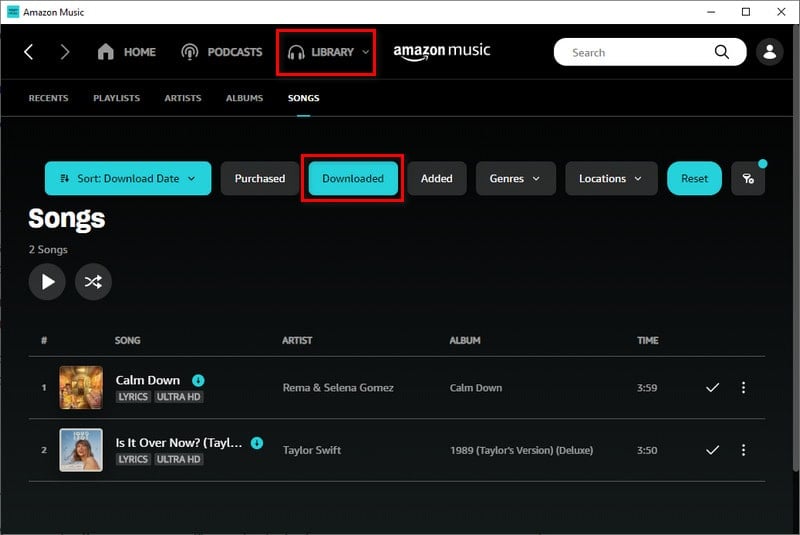 Note: The songs you download from Amazon Music are stored as cached files on your mobile device or computer, but you're not allowed to transfer the downloaded files. You can only access these downloaded songs and enjoy offline playback by renewing your Amazon Music Prime or Unlimited membership on a monthly basis.
🔹 Download Purchased Amazon Music:

Step 1: Start the Amazon Music app, and then head to "Library" on the homepage.
Step 2: Choose the "Purchased" tab to filter your library. Right-click on the song, album, or playlist, and click on "Download" to initiate the process.
Step 3: When the downloading process finishes, the purchased files are saved to the local storage. In addition to exporting them to Windows Media Player directly, you are allowed to find where the purchased songs are stored and move them to other devices easily.
🔺 Amazon Music Restrictions You May Need to Know About:
Only the purchased files on Amazon Music can be downloaded as local files and transferred to other devices freely. However, If you want to fully utilize the downloaded songs for personal use, how could you be willing to bear such a high cost? So we should try a different approach to download the songs and save them as real local files without purchasing them from Amazon.
And if you are an Amazon Music Unlimited subscriber, you can download millions of songs freely. But if you are only an Amazon Prime member, you can only download songs in the All-Access Playlists. At the same time, there is a limit on the number of songs that can be downloaded on each device, so please be mindful of your storage space. In addition to subscribing to the Amazon Music Unlimited Family Plan (which supports six devices at a time), the standard Amazon Music Prime Plan or Amazon Music Unlimited Plan is only allowed to stream music on one device at a time.
Given these facts, do you think this method of downloading songs is enough for your needs? Maybe you're getting anxious about how to bypass all those restrictions. Don't worry, we'll help you remove these obstacles and limitations. Please hold on for a few minutes before closing the page and read through our post.
---
☑ Part 4. Download Amazon Music as Local Files for Unlimited Use👍
Amazon Music's limitations may be highly unconducive to full control over the Amazon Music tracks. Therefore, the optimal resort is to get a music converter installed. TuneCable Amazon Music Downloader is desirable when you are looking for a tool to download Amazon Music tracks, albums, playlists, or podcasts to a local computer in plain MP3, AAC, FLAC, WAV, AIFF, and ALAC formats for permanent playback and unlimited use.
With this tool, you are amount to do anything including:
💻 1. In addition to offline playing All-access playlists, offline playback of all categories is fully unlocked for Amazon Music Prime users.
🎧 2. Extracting songs from Amazon Music to a Windows PC or Mac as local files for permanent playback.
📱 3. Facilitating offline playback of Amazon Music on several devices.
🎮 4. Importing Amazon Music to any program or gadget easily.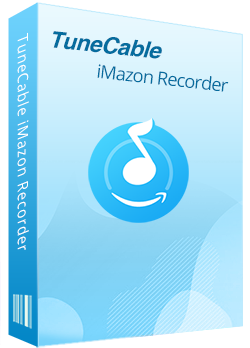 TuneCable Amazon Music Downloader

🔹 Convert Amazon songs, playlists, albums, and podcasts to MP3/AAC/WAV/FLAC/AIFF/ALAC.

🔹 Download lossless HD/Ultra HD songs from Amazon Music.

🔹 Retain full ID3 tags & lyrics after the conversion.

🔹 Run at 10x faster conversion speed & batch download.

🔹 Sort Amazon Music files by playlist, artist, album, etc.

🔹 Keep the converted Amazon songs forever without time limits.

🔹 Offer tools: Format Converter, Tag Edit, Burn CD, etc.

🔹 The downloaded Amazon Music files can be transferred to an SD card, USB, phone, Google Home, etc.

🔹 Enable users to add Amazon songs and playlists to Discord, DJ software, video editor, etc.
Step 1 Start TuneCable Amazon Music Downloader
Download and install TuneCable Amazon Music Downloader on your Windows PC or Mac. Double-click on the app to start it. On the main interface, you are provided two options: Download music from the Amazon Music app or Web Player. To download music in HD/Ultra HD quality at 5x conversion speed, the former mode suits. If you prefer faster converting speed rather than audio quality, then downloading music from the web player is available.
Step 2 Change the Output Parameters Accordingly
You can either alter the settings in advance or after the next step. Anyway, customizing the output settings is necessary. In the left panel, go to the "Settings" section. From this page, you are allowed to make changes to the output format, bit rate, sample rate, output folder, etc. When you are done, go to the "Home" column.
If you are about to download music with the best quality retained, you can select "Amazon Music Record" in the conversion mode and select "AUTO" in the output format.
In this step, you should consider the intended use of the converted Amazon Music files and set the correct output format to prevent any incompatibility issues.
Conversion Mode: Intelligent Mode, Amazon Music Record/Web Download, YouTube Download
Convert Speed: 1x to 10x conversion speed
Output Format: Auto, MP3, AAC, WAV, AIFF, ALAC, FLAC
Bit Rate: 128kbps, 192kbps, 256kbps, 320kbps
Sample Rate: 44.1kHz, 48kHz, 96kHz, 192kHz
Output Folder: To your preference
Output File Name: Track Number, Title, Artist, Album, Playlist Index, Year
Output Organized: None, Playlist, Artist, Album, Artist/Album, Album/Artist, Playlist/Artist, Playlist/Album
Step 3 Add the Desired Amazon Music Tracks or Playlists
● Download music from the Amazon Music app: On the Amazon Music app, browse or search for the song, playlist, or podcast you need, and then add it to TuneCable by drag-and-drop way. There is another option to add songs. Right-click on the cover art of the song or playlist and choose "Share Album/Artist/Playlist/Song/Podcast" to copy the link. After that, paste the link to the TuneCable working area.
● Download music from the Amazon Music web player: Navigate to a wanted song, album, playlist, or podcast, and then open it. In the lower right, go to the "Click to add" button to load songs.
Step 4 Select the Amazon Music Songs to Download
You will come to this page whether you choose to download music from the app or web player. Tick off the tracks you want and click the "Add" button. The selected songs will be added to the download list.
Step 4 Convert Amazon Music to Local Files
If you have more songs or playlists to download, simply click on the "Add More" button. When all the songs you need are added to the download list, tap on the "Convert" button to perform an instant conversion. TuneCable prompts when the conversion is finished.
Step 5 Unlimited Use of the Amazon Songs
A prompt jumps out as soon as the output folder opens when the conversion is completed. Click on the "folder icon" next to the track, then you can quickly locate the downloaded song on your local PC. The unencrypted Amazon Music files can be freely transferred and used on multiple devices.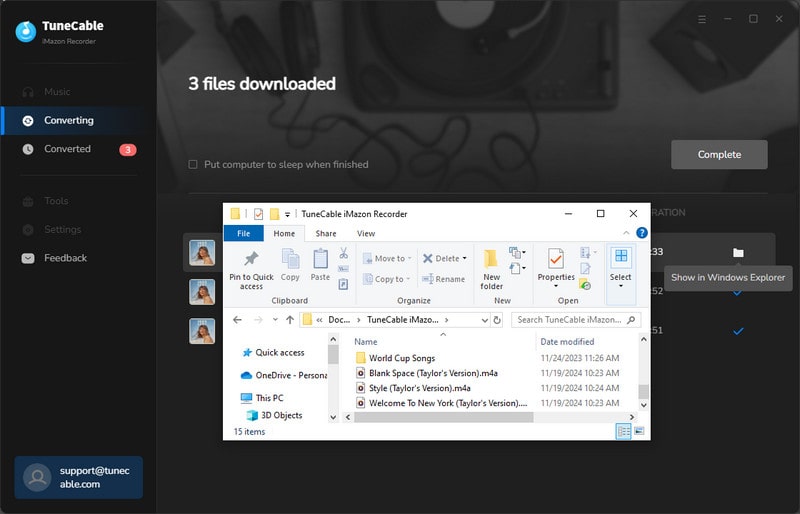 ---
☑ Part 5. More Tips About Amazon Music
Q1: What Is the Difference Between Amazon Music Unlimited and Prime?
The difference between Amazon-purchased songs and downloaded songs lies in the following aspects:
1. Price: Amazon Music Prime is an additional service for Prime members, which does not require a separate payment but requires a Prime membership. Amazon Music Unlimited requires a separate subscription and is more expensive. Prime members can join Amazon Music Unlimited for only $9.99/month for a monthly subscription or $99/year for an annual subscription. Non-Prime customers pay $10.99/month.
2. Audio Quality: Amazon Music Unlimited offers higher quality sound, such as HD and Ultra HD (CD quality).
3. Music Library: Amazon Music Prime's music library contains about 2 million songs (All-Access Playlists), while Amazon Music Unlimited contains more than 100 million songs. If you want to play songs other than All-Access Playlists with Amazon Prime Plan, you can only endure shuffle play. In addition, you do not have the right to download songs other than All-Access Playlists. Unless you refer to part 4 of this article to download Amazon Music to your local PC.
4. Features: Amazon Music Unlimited supports more features, such as unlimited offline downloads, use of Alexa devices, watching videos, enjoying lyrics, and more personalized options.
Q2: What Is the Difference Between Amazon Purchased Songs and Downloaded Songs?
Amazon-purchased songs are stored in the cloud, while downloaded songs are stored on local devices. Amazon-purchased songs can be played on any Amazon Music-supported device without a network connection, but downloaded songs can only be played on the device where they were downloaded. Amazon-purchased songs usually have high-definition sound quality, while the sound quality of downloaded songs may vary. Only download songs from Amazon Music with TuneCable Amazon Music Downloader, you can store the HD/Ultra HD music locally without purchasing.
Q3: Can I Burn the Amazon Music to A CD?
After converting the Amazon files into plain formats by following the steps in part 4 of this article, you can freely burn them to a CD. Go to the "Converted" column and then select the songs you need. Tap on the "tool icon"

then choose "Burn CD" to make a CD with the selected songs. Alternatively, you can navigate to "Tools > Burn CD" to select songs from the local PC to make a CD.

Q4: Can I Move the Downloaded Amazon Music Files to A Phone?
Sure, after the conversion executed by TuneCable Amazon Music Downloader, you can move the downloaded Amazon Music files to a tablet, iPad, iPhone, or Android phone easily. You can refer to the same steps here to move the downloaded Amazon Music files to your iPhone. If you want to move the downloaded Amazon music files to your Android device, simply connect your phone to your computer and move the songs to the "Music" folder on your Android device's storage disk.
---
✅ The Closing Thoughts
Through this article, you can learn more about all the information about downloading Amazon Music, including download methods and related details. TuneCable Amazon Music Downloader has truly excelled in the conversion of music, perfecting this capability for years to enhance Amazon Music's functionality and unlock new possibilities. Feel free to experience a free trial to see how helpful TuneCable can be.
---