✅ Part 1: How Can I Access Tidal HiRes Music?
Before moving to a further discussion, let's dig into some details about what is Tidal HiRes Music and how it works. If you're acquainted with Tidal HiRes already, just skip to the next part.
◈ What Is Tidal Hi-Res?
Tidal HiRes, launched by Tidal, has raised the quality of music to a new level. When you are still celebrating the enjoyment of CD-quality audio, 16-bit/44.1kHz, Tidal has launched HiRes. If you become a Tidal HiFi Plus user, you can enjoy up to 24-bit/192 kHz audio. According to Tidal, this will beat other streaming platforms and give you the best music experience. It uses FLAC encoding technology to compress the file multiple times while ensuring lossless sound quality, resulting in a significant reduction in file size for the same quality of music. This relieves the most troublesome problem for audiophiles who pursue high quality, that is, the size of music files is too large. Here are more highlights of the Tidal HiRes:
● Superior Sound Quality:
Tidal has always been committed to providing high-quality music. This time Tidal HiRes' high-resolution audio gives it a plus. It uses HiRes FLAC encoding technology to provide users with high-fidelity lossless audio up to 24-bit/192kHz. While Tidal insists on retaining the integrity of the original sound quality of the audio, it does not make the audio files too large to consume the storage space on the user's device.
● Stronger Sense of Space:
Because FLAC can reproduce a wider frequency range, it gives you a stronger sense of space. This effect is particularly prominent in orchestral works and field recordings.
● Exclusive HiRes Music Library:
In Tidal HiRes' exclusive music library, you have access to a large number of professionally recorded and processed high-resolution audio files. In order for users to easily match their favorite music, this exclusive music library covers various types of music, including pop, rock, classical, jazz, electronic music, etc.
● High-Definition Cover And Lyrics:
When you are listening to music, the cover and lyrics of the song are also important. A high-quality cover can quickly attract the user's attention. The high-definition covers and lyrics of Tidal HiRes make the user experience more complete and interesting.
● Smart Recommendation Function:
Like all other streaming music platforms, such as Spotify, Apple Music, Amazon Music, and Tidal HiRes will not miss another opportunity to please users, that is, intelligently recommend songs and albums that may be of interest to users. Such a personalized music recommendation service is undoubtedly another highlight of retaining users.
● Social Sharing Feature:
Tidal HiRes allows users to share songs and albums, breaking down communication barriers between users. In the process of users communicating and sharing, the influence of Tidal Music is expanded and Tidal's popularity is increased.
● Offline Playback:
Tidal HiRes has such a huge music library, that would be a shame if it only supported online listening. So Tidal HiRes also supports offline playback. However, this feature has some limitations, which we will talk about later.
◈ How Can I Access Tidal HiRes Music?
Tidal offers three different audio levels, including standard audio, high-definition audio, and lossless audio. To download Tidal Hi-Res music, you need to first subscribe to the Tidal Hi-Fi Plus plan. Unlike Tidal Hi-Fi Plus, Tidal Free or HiFi plans don't offer this feature. The sound quality on the Free plan is limited to 160kbps, while the HiFi plan has 16-bit/44.1kHz, which is close to CD quality. Therefore, for the best music experience, you are recommended to upgrade to the HiFi Plus plan to enjoy unparalleled sound quality.
| Low | High | Max |
| --- | --- | --- |
| (Up to 320 kbps) | (Up to 16-bit, 44.1 kHz) | (Up to 24-bit, 192 kHz) |
| Keep listening to your favorite music without fear of exceeding your data limit. Perfect for times when you have a weak signal, are nearing your data limit, or are running low on download space. | Enjoy studio-quality FLAC music with over 100M tracks. As an open-source format, it enables every artist to create and deliver high-fidelity music effortlessly. | Explore the ultimate sound quality that brings every detail to life with HiRes FLAC, the ultimate format for music lovers. Revel in the rich, clear sound on a 5G or WiFi network with a hardware connection. |
To access high-resolution FLAC on Tidal, you must subscribe to the Tidal HiFi Plus plan, which has a monthly cost of $20. By subscribing to this plan, you get access to Tidal's MAX sound quality tier, which features audio resolutions up to 24-bit, 192 kHz. Plus, you get a variety of audio formats, including immersive Dolby Atmos, Sony 360 Reality Audio, Hi-Res FLAC, and FLAC and Master Quality Authenticated (MQA). Here are steps you can follow to switch to HiRes FLAC:
Step 1: After becoming a Tidal HiFi Plus member, go to set up the output quality in the Tidal app.
Step 2: Go to "Settings", then tap on "Audio & Playback", and finally go to "Quality".
Step 3: The optional hierarchy includes HiRes FLAC, MQA, FLAC, and AAC. To experience Tidal HiRes Music, tick off "Max". You will get a MQA file in case a HiRes FLAC file is not available. After selecting the highest quality in the Tidal app, the actual source file you receive depends on the format provided by the artist, label, or publisher.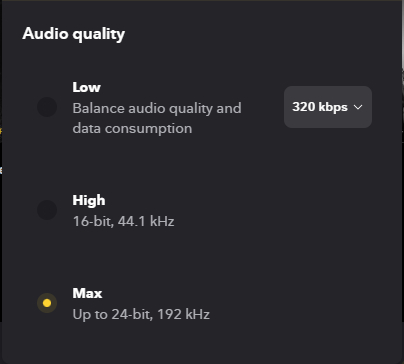 ---
✅ Part 2: Download Tidal HiRes Music on Android / iOS
To download and enjoy the playback of Tidal HiRes FLAC songs, you should check the requirements in advance:
1. Subscribe to the Tidal HiFi Plus plan.✔
2. Update your Tidal app to the latest version.✔
3. Look for the songs that have the HiRes or Max label in the app.✔
4. Switch the streaming quality to MAX in the Tidal app.✔
5. Get an external DAC or a HiRes audio player to enhance your listening experience.✔
After meeting the above requirements, you can download Tidal songs under a stable network connection.
Step 1: On your mobile device or computer, open the Tidal app instead of the Tidal web player.
Step 2: Go to the "Explore" column, and then find the HiRes tab, click on it to make an entry into the Tidal HiRes music library. Here you can find HiRes FLAC albums and playlists.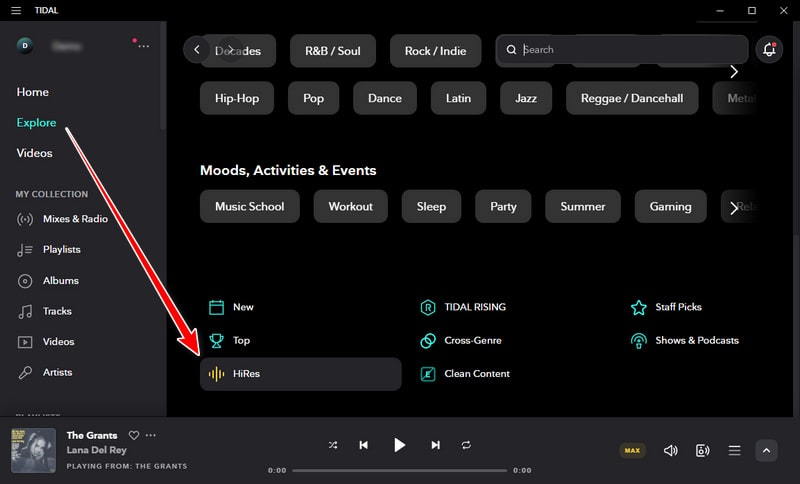 Step 3: Navigate to a HiRes album or playlist, then toggle the "Download" option to start downloading the album or playlist. It's noted that not every track in Tidal has a HiRes version. When the HiRes FLAC is available, you will see the "Max┃FLAC"

mark next to the progress bar.
---
✅ Part 3: Download Tidal HiRes Music on Windows PC / Mac
Mobile phones have indeed brought us convenience and changed our lifestyles. Tons of hassle-free tasks that can be easily accomplished without the need for a bulky computer. However, other complicated tasks taking up too much space cannot be completed without computers. Therefore, the desktop version of the Tidal Music app also gathers numerous users for convenience. But we all know that you are not enabled to download songs offline on a computer, which has been troubling many Tidal users. So how should we eliminate this worry?
Fortunately, the TuneCable Tidal Music Downloader arrived like a savior. It was elaborately developed by a professional team to remove obstacles for Tidal Music users in their pursuit of a better music experience. With this TuneCable Tidal Music Downloader, you can:
📥 ↔ Optionally download Tidal tracks instead of the entire album or playlist.
🗂️ ↔ Download multiple Tidal albums and playlists simultaneously.
🎧 ↔ Enjoy offline playback of downloaded Tidal songs even if you are not a subscriber to Tidal.
🔑 ↔ Download lossless HiRes FLAC music from Tidal to a local PC without encryption.
🔗 ↔ Enable transfer of Tidal HiRes files.

You can customize the download path of Tidal songs as per your preference. Once you have downloaded all your favorite songs to your designated location, they can be retained indefinitely and played back freely.
What's more, all the metadata of the songs on Tidal, such as artist, title, album, album cover, year, etc., will be completely preserved after downloading. And you are allowed to export the matched lyrics completely. TuneCable also provides a range of output formats, making it convenient for you to transfer the downloaded Tidal songs to different devices or import the Tidal songs to a series of apps in the future.
If you are not a subscriber to Tidal Music, you can sign up for a Tidal Free plan to download songs using this TuneCable Tidal Music Converter. If you are subscribed to Tidal HiFi or HiFi Plus, you can download lossless music from Tidal, including Tidal HiRes FLAC music. And even if you decide to discontinue your subscription to Tidal Music in the future, the downloaded Tidal Music files will be accessible anytime.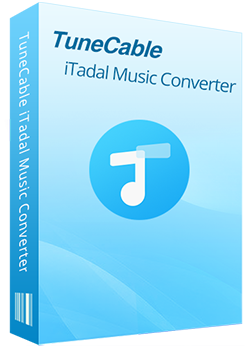 TuneCable iTadal Music Downloader

Download songs, albums, podcasts, and playlists from Tidal onto local computers.
Convert Tidal music to common MP3/AAC/WAV/FLAC/AIFF/ALAC format.
Preserve lossless Hi-Res/CD audio quality after conversion.
Retain the full ID3 tag information of Tidal songs like title, artist, album, etc.
Sort converted Tidal music files into folders by playlist, album, artist, etc.
Run at up to 10x faster speed to batch convert several Tidal playlists.
Offer handy tools of Format Converter, Tag Edit, Burn CD, etc.
Save Tidal Music files offline with Tidal Free, Tidal HiFi, and Tidal HiFi Plus accounts.
Step 1: Start TuneCable Tidal Music Converter
Install the TuneCable Tidal Music Converter application on your computer. Once installed, open the program. Select a download mode from the main user interface. The first mode, downloading music from the app, requires the TIDAL app to function and preserves the highest quality (up to 24-bit/192kHz) Tidal tracks. The second mode, downloading music from the web player, accesses the integrated Tidal web player and saves high-quality (16-bit/44.1kHz) Tidal tracks at a faster speed. Choose the mode that suits your needs.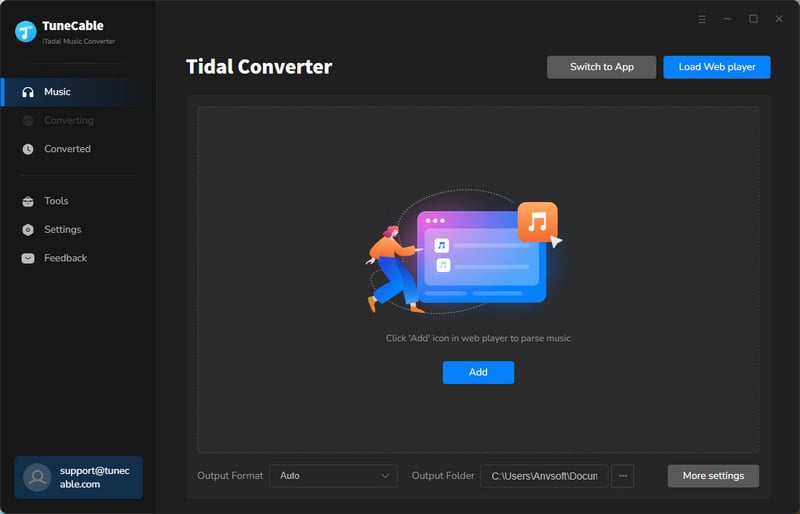 Step 2: Choose the Desired Tidal HiRes Tracks to Download
Download Tidal songs from the app: If you want to download HiRes FLAC music, you should opt for extracting music from the app. Because the Max quality is not available on the Tidal web player.
On the pop-up Tidal app, switch to "Max" in the streaming quality setting first, and then choose a HiRes album or playlist, and drag it to TuneCable. TuneCable will load the Tidal tracks and present you with available download tracks. After ticking off all wanted tracks, click on "Add" to move to the next step.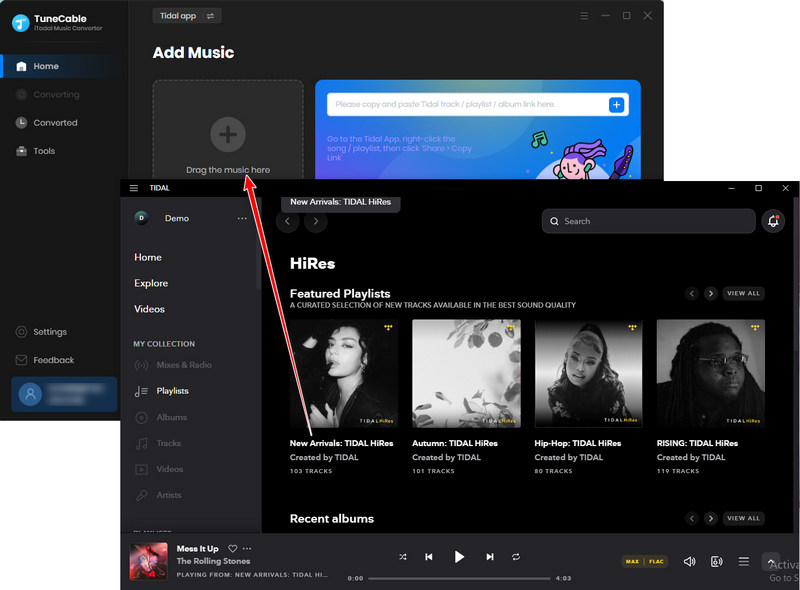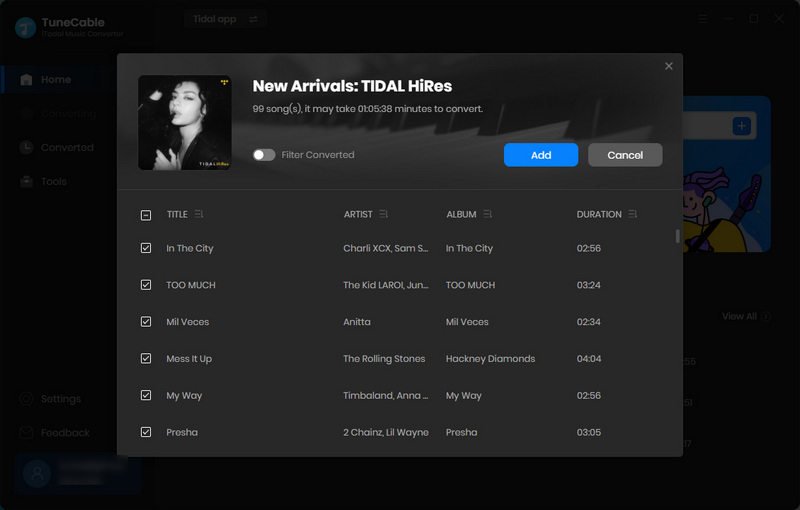 Download Tidal songs from the web player: The maximum audio quality for offline downloading depends on the maximum streaming quality you can adjust. Through the Tidal web player, you can play and download music up to HiFi quality (16-bit/44.1kHz).
Navigate to a preferred music album or playlist on the Tidal web player, then tap on the "Click to add" button in the lower right to load tracks. Once you finish all selections, click on "Add" and put your desired tracks into the task list waiting for downloading.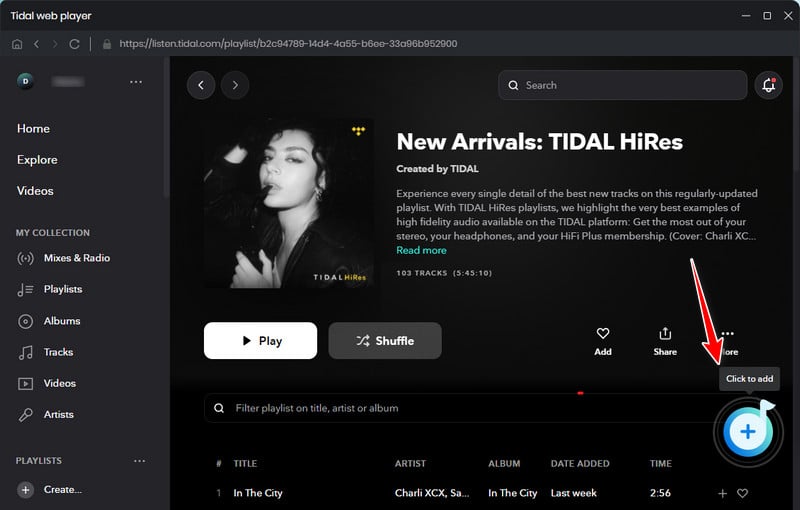 Step 3: Set Up the Output Settings
If this is your first time using TuneCable, you'd better check the settings in case TuneCable doesn't download songs to your preferences. But if you have used TuneCable to download songs many times and do not need to modify any parameters, you can skip this step.
Hover over to "Settings" in the left sidebar, and customize the output format, bit rate, sample rate, conversion mode, output folder, output file name, output organized way, etc.
To download HiRes FLAC music, select "Tidal Record" in the Conversion Mode setting, select "FLAC" in the Output Format setting, and select "192 kHz" in the Sample Rate setting.
Or you can simply set "Auto" as the output format, which helps you extract songs in pristine quality and format.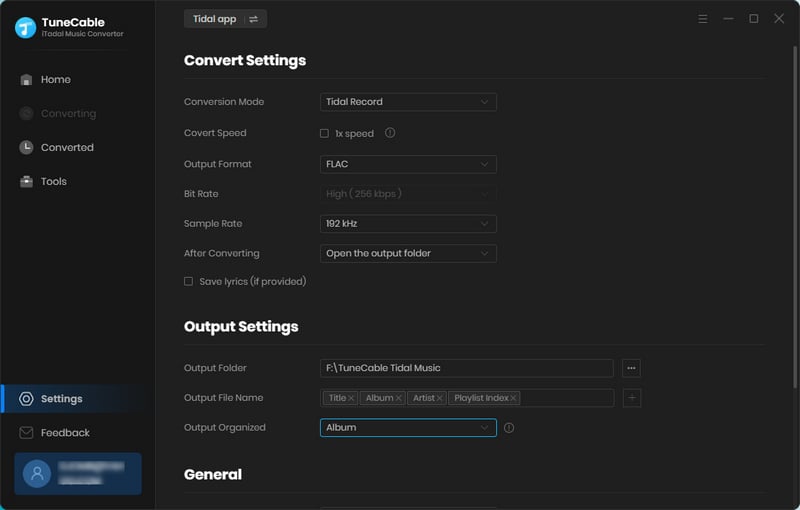 Step 4: Download Tidal HiRes Music to Local PC
When you are ready, go back to "Home". From here you are supported to add more songs by clicking on the "Add More" button.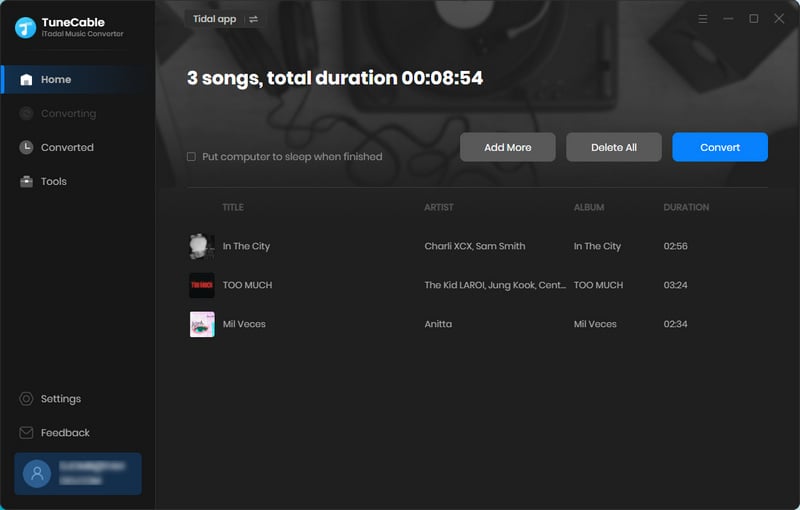 If you insist on an instant conversion, hit on the "Convert" button.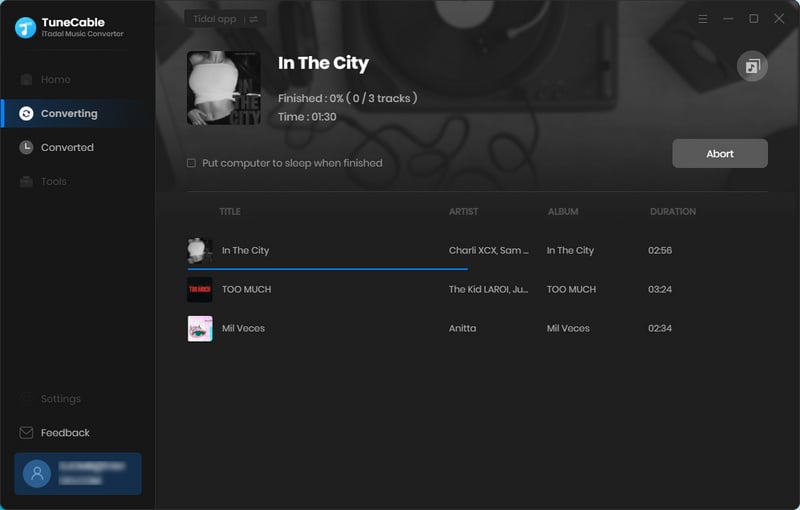 Step 5: Freely Relish the Downloaded Tidal HiRes Music
When you are prompted that the conversion is finished successfully, the output folder will pop up automatically. You can directly navigate to the output folder on the local PC where you can view all converted tracks. The Tidal HiRes songs are archived according to the preset settings. Or you can click on the "folder icon"

to open the output folder.
The downloaded Tidal songs can be imported to other programs for remixing and transferred to other devices. You can still enjoy the playback even if you terminate your Tidal subscription.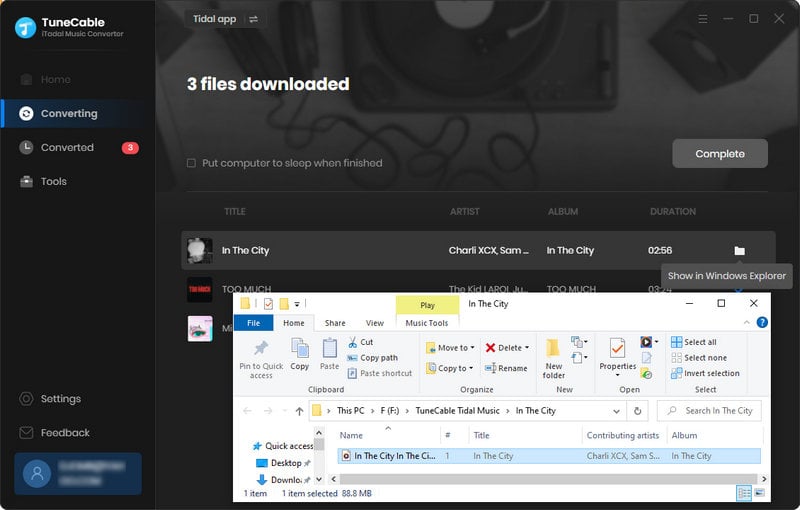 ---
✅ Part 4: Additional FAQs About Tidal HiRes Music
Q1. How Can I Listen to Tidal HiRes FLAC Music Immersively?
In order to fully utilize the sound quality potential of Tidal HiRes, it is recommended to choose an audio player and audio device that supports FLAC format and use a hardware connection for playback. This avoids the loss of sound quality during playback.
Q2. Can I Transfer the Downloaded HiRes Albums to Mobile Devices?
Tidal downloads only can be played within the Tidal app or Tidal web player. However, TuneCable Tidal Music Downloader breaks down the barrier and brings you unencrypted Tidal audio files. After the conversion, you can move the downloaded Tidal HiRes FLAC songs to any device.
To transfer the Tidal HiRes files to an Android device, establish a connection between the device and computer via a USB cable, and then copy the Tidal HiRes files from the computer to a folder named "Music" in the internal storage disk of the Android device.
In case you are looking for a way to transfer the downloaded Tidal HiRes albums and playlists to an iOS device, here are detailed steps you can refer to: Transfer the Converted Songs to your iPhone Freely
Q3. How Can I Burn Tidal HiRes FLAC Music to CDs?
TuneCable upholds professional standards and therefore provides you with a series of practical tools to enhance your efficiency. Simply navigate to the "Tools" section on TuneCable and you will easily find the "Burn CD" tool. By simply importing the desired audio files from your computer and inserting a blank CD, you can effortlessly craft your own CD.
Or you can go to the "Converted" section, and then select the newly downloaded Tidal songs, click on the "tool icon"

then tap on "Burn CD" to burn the selected Tidal songs to a CD.
These practical features make TuneCable the ideal choice for your music production needs.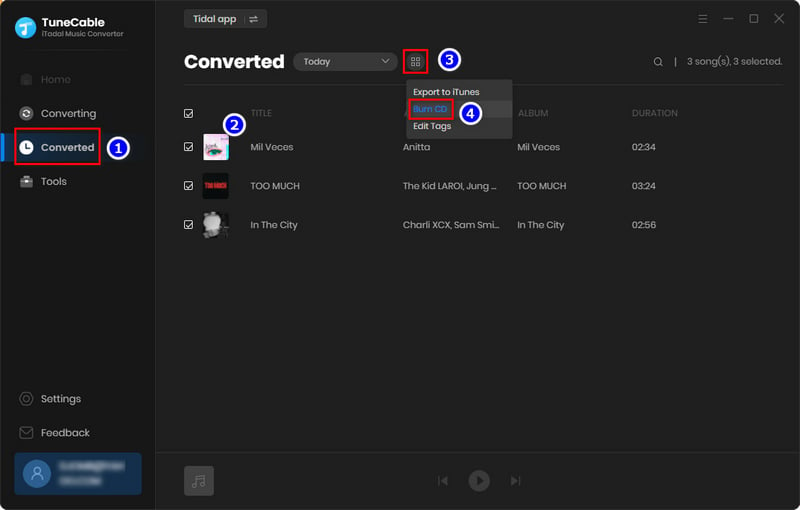 Q4. Can I download Tidal HiRes FLAC Music by Using the Tidal Free Plan?
Tidal allows users to access music with up to 160kpbs sound quality, while TuneCable can easily help you download offline. However, if you want to access HiRes quality songs, you need to upgrade to the Tidal HiFi Plus plan, as Tidal does not allow free users to download HiRes FLAC songs. Nevertheless, if you only require the free Tidal plan to unlock the offline download feature, then TuneCable is still worth giving a try.
---
The Closing Thoughts
Tidal Music is highly acclaimed for its exceptional performance and certified HiRes audio technology, attracting a large group of loyal users worldwide. To unlock a superior user experience of Tidal music and relish the offline playback of Tidal HiRes FLAC music without restrictions, TuneCable Tidal Music Downloader offers a practical plan to remove the limitations on Tidal songs, albums, and playlists. Try this amazing converter for free to enjoy the unrestricted offline playback experience.