When it comes to music streaming services, the two most prominent players in the market are Apple Music and Spotify. While Spotify boasts a market share of 31% with 180 million subscribers, Apple Music claims 15% with 88 million subscribers. Both platforms have a large user base and are popular globally. However, can we say Spotify is better than Apple Music only based on popularity? No. So the question remains, which is better – Apple Music or Spotify? Since people have different preferences, this article will explore both services from various angles and hopes to offer guidance in choosing your type of music streaming.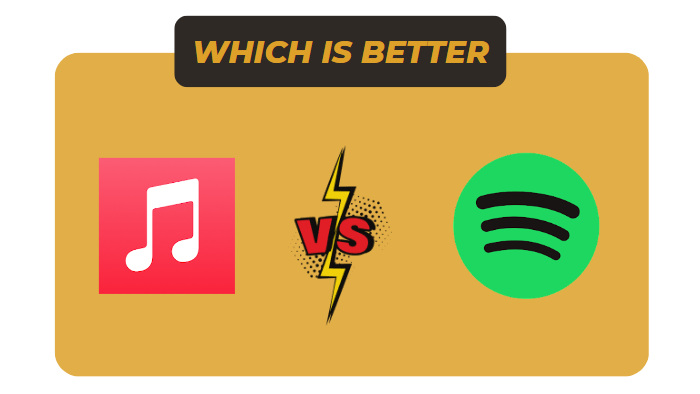 ---
As one of the earliest providers of music streaming services, Spotify has developed into a comprehensive platform. It collected over 100 million digital copyright-restricted songs and 5 million podcasts. Spotify even offers kinds of audiobooks since late 2022. In other words, Spotify is home to numerous songs, playlists, albums, podcasts, and audiobooks. It is one of the few services that support music tracks, podcasts, and audiobooks.
In contrast, Apple Music focuses on offering a music library with over 100 million licensed tracks and albums with 30 thousand curated playlists. Besides, Apple Music provides live 24-hour radio stations, where you can listen to the radio at any time.
---
Spotify mainly streams music at AAC and OGG Vorbis. Both of them use lossy audio compression and retain sounds that can only be heard by human beings. In this case, the bit rate of Spotify music tends to be relatively normal, which ranges from 128 kbps to 320 kbps. The Spotify app streams at up to 320 kbps, while the web supports only up to 256 kbps. And the quality you can enjoy depends on your subscription status. If you are a Spotify free user, you are allowed to enjoy only 160 kbps, while a premium user can enjoy up to 320 kbps.
By contrast, Apple Music stands apart from Spotify as it offers better audio quality, with the options of lossy audio, lossless audio, and even high-resolution audio. It basically streams music at 256 kbps, which is higher than most music streaming services. Except for lossy audio, Apple Music offers lossless audio, which quality ranges from 16bit/44.1kHz to 24bit/48kHz ALAC (or 850 kbps), or even High-Resolution audio from 24bit 96kHz to 192kHz (or 3,730 kbps), which preserve every bit of sound wave and keep the original quality of a song. In addition, Apple Music supports Dolby Atmos, which adapts automatically to your audio device and system to offer you a spatial sound experience. Therefore, Apple Music does better in sound quality.
---
In this part, we will emphatically look at the price you need to pay and the benefits you can get from Spotify and Apple Music relatively.
Spotify offers generally two tiers, the free tier and the paid tier with varying prices and benefits, while the paid tier has four kinds, Individual plan, Duo plan, Family plan, and Student plan. Their prices are different and so be the benefits.
| Tier | Monthly Price | Free Period | Ad-Free | Offline Mode | Max Sound Quality | Devices | On-demand Playback |
| --- | --- | --- | --- | --- | --- | --- | --- |
| Free | $0 | Forever | No | No | 160 kbps | 1 | No |
| Individual Plan | $9.99 | 3 months | Yes | Yes | 320 kbps | 1 | Yes |
| Duo Plan | $12.99 | 1 month | Yes | Yes | 320 kbps | 2 | Yes |
| Family Plan | $15.99 | 1 month | Yes | Yes | 320 kbps | 6 | Yes |
| Student Plan | $4.99 | 1 month | Yes | Yes | 320 kbps | 1 | Yes |
The differences between the free and paid tiers basically reflect on the prices, ads, sound quality, offline mode, and on-demand playback. The free users can only enjoy the full library with up to 160 kbps with ads interrupted between songs, while the paid users are capable to listen to up to 320 kbps songs with ad-free, offline mode supported, and on-demand playback. In other words, the free users can enjoy the basic listening benefits, and the paid users are entitled to more rights.
Apple Music, on the contrary, does not offer a free plan to its users. But it initiates a voice plan with limited benefits. Here are the prices and basic benefits of Apple Music plans.
| Tier | Monthly Price | Free Period | Ad-Free | Offline Mode | Max Sound Quality | Devices | On-demand Playback |
| --- | --- | --- | --- | --- | --- | --- | --- |
| Voice Plan | $4.99 | 1 month | Yes | No | 256 kbps | 1 | No |
| Individual Plan | $10.99 | 1 month | Yes | Yes | 3,730 kbps | 1 | Yes |
| Family Plan | $16.99 | 1 month | Yes | Yes | 3,730 kbps | 6 | Yes |
| Student Plan | $5.99 | 1 month | Yes | Yes | 3,730 kbps | 1 | Yes |
From this chart, you can see that if you want to listen to Apple Music, you should pay $4.99 a month at least. But this voice plan only allows you to play music by sending a voice command to Siri and to listen to music sounds, you cannot enjoy offline mode, view lyrics, or watch music videos. Compared with Spotify in terms of price, Apple charges one more dollar for the same plans. But naturally, you are offered higher audio quality.
---
Another aspect we are going to compare is the feature of music discovery and recommendation. Any music buffs have to admit that they have a limited range of music tracks. You cannot find songs that suit your taste from such large music libraries manually by yourself. Hence you have to search for some technical help. Both Apple Music and Spotify use advanced algorithms to generate music recommendations based on a user's history and preference. But there are some differences.
Spotify shows music discovery and recommendations on the whole home page, where you can see new audiobooks, playlists, and studios that you may like. Spotify also updates some playlists weekly based on global music trends, with which you can find which songs are most played around the world or in your current region recently. Besides, Spotify supports helping you form your preference by offering you the option of excluding or including playlists from your taste profile. In general, Spotify is extremely sophisticated in discovering new music and providing you with accurate recommendations.
Apple Music is also an expert in this feature. The tabs Listen Now, Browse, and Library on the Apple Music app show you personalized results of mixes, playlists, songs, albums, and stations based on your listening history and your preference. You can easily find new music that suits your taste. But compared with Spotify, Apple Music needs to improve its ability to gather metadata to generate the worldwide trend.
---
Music has penetrated nearly every field of our life, we need to enjoy music on more hardware and software platforms other than only with music streaming apps. Therefore, the cross-platform availability or compatibility of music streaming services comes to be another factor for our choice.
Both services are available for Android, Windows, macOS, iOS, iPadOS, watchOS, tvOS, ChromeOS, CarPlay, PlayStation 5, Xbox, and DJ software. To be specific, you can get Spotify and Apple Music on computers, iPhones, iPad, Android phones, smart watches, smart TVs, smart speakers, cars, game consoles, and other common devices.
However, Apple Music focused on its Apple Ecosystem, nearly all Apple devices support Apple Music. But in recent years, Apple Music can also be found in some non-apple devices such as Android phones and Windows computers. But the app has not supported all Android or Windows yet. Your device should have Android 5.0 (Lollipop) and Windows 11. Whereas Spotify has a wider compatibility with devices and systems. Spotify is available for Linux, Wear OS, PlayStation 4, and Android Auto as well, except for most Apple systems and devices. So if you are loyal to Apple devices, both Spotify and Apple Music are good for you. But when you plan to enjoy music streaming with more devices, then select Spotify.
---
Music streaming is more a social method than a way to indulge in music alone. These services offer a host of features to cater to their customers' different preferences, including social features.
Spotify has been a trailblazer in incorporating social features into its app. It offers numerous ways for users to share their favorite playlists, tracks, and albums with friends and followers. One of the most notable features is the public playlist, which enables users to share their playlists with the Spotify community. Spotify also allows users to collaborate on playlists with friends, adding to the social experience. Furthermore, Spotify's integration with Facebook means users can connect with friends on the platform and view the music they are listening to.
On the other hand, Apple Music's social features are more subtle. The app allows for following friends and sharing playlists on your profile. You can operate to share or hide your playlists, find or follow friends, and unfollow and block users. The Listening Now tab shows music that your friends are listening to and sharing. The other social feature on Apple Music is "Friends Mix", which is a playlist that the app creates for you based on what your friends are listening to.
Overall, while both services have social features, Spotify is the clear winner in terms of its quantity and quality. With features such as playlist sharing and collaboration, as well as more extensive social integrations, Spotify brings a stronger social experience to the music streaming world. Apple Music, on the other hand, falls short in terms of its social features.
---
As the most prominent two music streaming services in the world, to make their service unique and irreplaceable, both Spotify and Apple Music have their exclusive content.
Apple Music often has exclusive live concerts, documentary films, interviews, and behind-the-scenes footage of popular artists, early album releases, and unique music videos. Some of the most notable exclusive content on Apple Music has included content from artists like Taylor Swift, Drake, Beyonce, and Adele. It offers a 24/7 worldwide radio station featuring exclusive interviews, news, and premieres. Besides, Apple Music sets an Apple Music Awards that is an annual awards ceremony that recognizes the achievements of musicians across various genres.
Spotify is unwilling to lag in the competition struggling for exclusive content. Spotify has a well-known exclusive podcast strategy, which aims to heavily invest in exclusive podcasts as a key differentiator in the highly competitive streaming market. The strategy involves signing deals with podcasters and production companies to create podcasts that are only available on the platform. It collects plenty of podcasts such as The Joe Rogan Experience, which is one of the most popular podcasts in the world. Additionally, Spotify has exclusive music releases from some artists, like Taylor Swift's "Folklore (Sessions)" and Billie Eilish's "Live at the Steve Jobs Theater." It also provides content with popular personalities like Barack and Michelle Obama, Kim Kardashian, and Prince Harry and Meghan Markle. In 2022, Spotify integrated audiobooks into its massive music library, making it more comprehensive and involving the full side of the audio industry.
---
This part will look at the user interface of Spotify and Apple Music app to show you their designs and difference.
Spotify's user interface is simple and intuitive, with a clean design that emphasizes the music itself. When you open the app, you'll see a page full of your recent playlists and curated playlists that the service recommends based on your listening history. The app's main navigation menu is located at the bottom (on the mobile) or the left (on the desktop) of the screen, with large icons for Home, Search, and Your Library. The Search section offers a search bar on the top and shows you the most searched music below, while the rest part displays your creations for playlists, podcasts, audiobooks.
Apple Music's user interface, on the other hand, is more complex and has a more traditional visual style. The main menu options are separated into five sections (on mobile), Listen Now, Browse, Radio, Library, and Search. The first section mainly shows you your current listening and some top picks and your recent plays. The Browse part also displays new music and some collections. The Rdio part is for radio stations. The Library section aims to give you intuitive classifications based on the recently added, playlists, artists, etc. While the Search tab offers you the feature to look for songs. Generally, Apple Music offers more features and options for advanced music connoisseurs.
---
Both Apple Music and Spotify are quite outstanding music streaming services and have their advantages and disadvantages. Spotify has a comprehensive music library integrated with songs, playlists, albums, podcasts, and audiobooks, offers up to 320 kbps audio quality, and provides sophisticated music discovery and extensive social features, and cross-platform compatibility. Spotify even allows free users to listen to its full music library. Apple Music, on the other hand, has a 100-million music library and live stations, offers up to 3,730 kbps quality, recommends new music to your preference, provides advanced social features, boasts exclusive content, and the high compatibility for Apple devices.
Spotify wins in terms of library content, cross-platform availability, music recommendation, social feature, price, and interface design. Apple Music, on the other hand, excels in audio quality and compatibility with Apple devices, exclusive hit albums and music videos, etc.
So Apple Music vs. Spotify, which is better? Ultimately, the answer depends on personal preference and need. If convenience is essential, and audio quality is not a priority, choose Spotify. However, if you are an Apple device user and prioritize audio quality, choose Apple Music. Anyway, what suits you is the best.
---
In this section, we will provide a few useful tips on how to transfer your Apple Music playlists to Spotify if you're planning to switch from Apple Music to Spotify. You can easily complete the transfer process by utilizing the TuneCable Apple Music Converter program, which is designed specifically for Apple Music users. This program enables you to download songs, albums, playlists, iTunes downloads, and other Apple Music content to your local computer, while keeping the lossless audio quality intact. You can also convert tracks to a variety of plain formats like MP3, AAC, WAV, AIFF, ALAC, and FLAC. Furthermore, it can assist in transferring Apple Music playlists to Spotify effortlessly.
Key Features of TuneCable Apple Music Converter:
Record iTunes M4P music, podcasts, audiobooks, and Apple Music.
Convert Apple Music files to MP3/AAC/WAV/FLAC/AIFF/ALAC.
Convert iTunes audio at 10X faster speed with lossless quality.
Keep ID3 Tags information after conversion.
Achieve permanent playback after the conversion.
Can transfer the converted Apple tracks to any device for unlimited use.
Enjoy free updates & technical support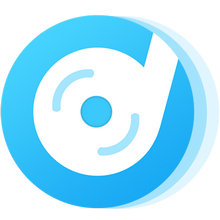 Step 1 Open TuneCable Apple Music Converter on Your Computers
Download and install the TuneCable program to your Windows or Mac computer if you don't have it. Then open the TuneCable program. Two modes are displayed on the start-up interface.
If you choose to download music from the app, make sure you have installed iTunes or Apple Music app on your device and log in to iTunes or Apple Music with your Apple credentials. If you choose to download music from the web player, the built-in Apple Music web player will pop up.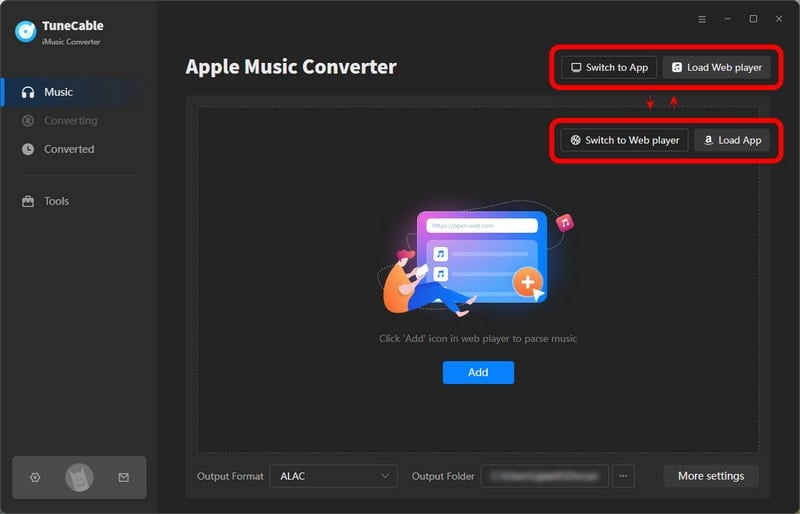 Step 2 Add Targeted Tracks to Download List
Download music from the app: Click the "+Add" button on the TuneCable primary page, and select your target playlists on the popup, which lists the content of your iTunes library. Then click "OK" to confirm.
Tips: If you plan to add new songs from Apple Music, just open iTunes or Apple Music on your device and go to the music library. Add new songs or playlists to the music library. The newly added songs will sync to TuneCable.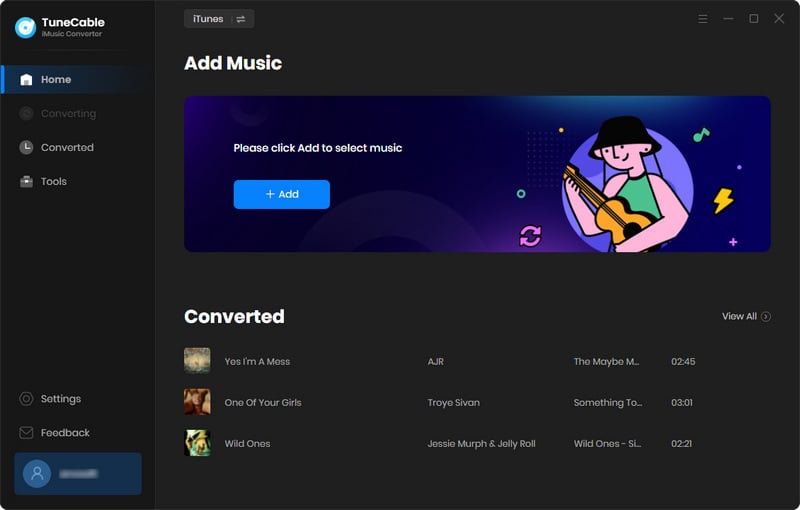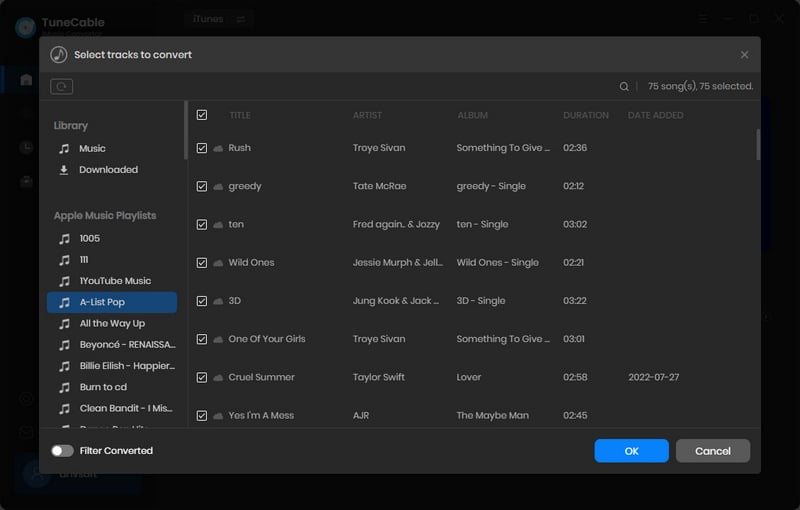 Download music from the web player: Navigate to any desired album or playlist in the pop-up Apple Music web player, enter its homepage and hit on the "Click to add" button in ther lower right to load songs. Then select the desired tracks and click "Add" to put the selected songs to the download list.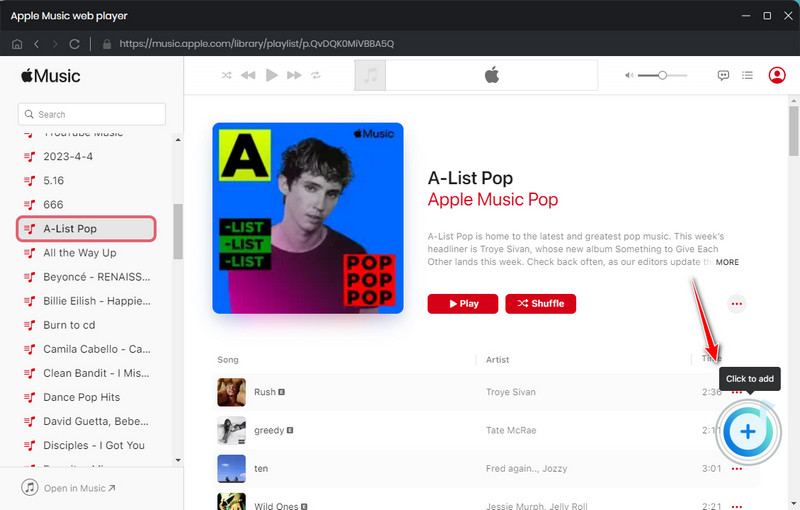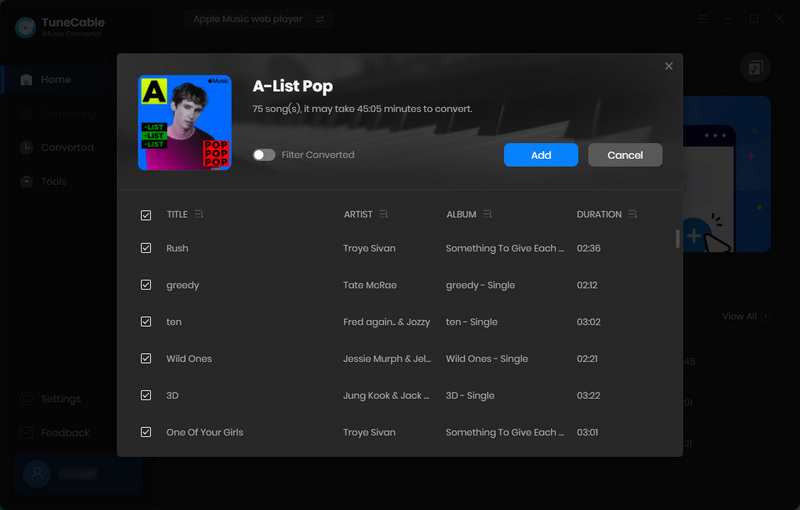 Step 3 Adjust Output Parameters on TuneCable
To output songs and playlists of iTunes or Apple Music in some specific parameters, click the "Settings" icon in the lower left. Select the output format, output quality, and output folder, edit the output file name to your preference, and select how the output files are sorted. The FLAC or WAV format is more recommended. Once you've completed the setting up, go back to the "Home" section.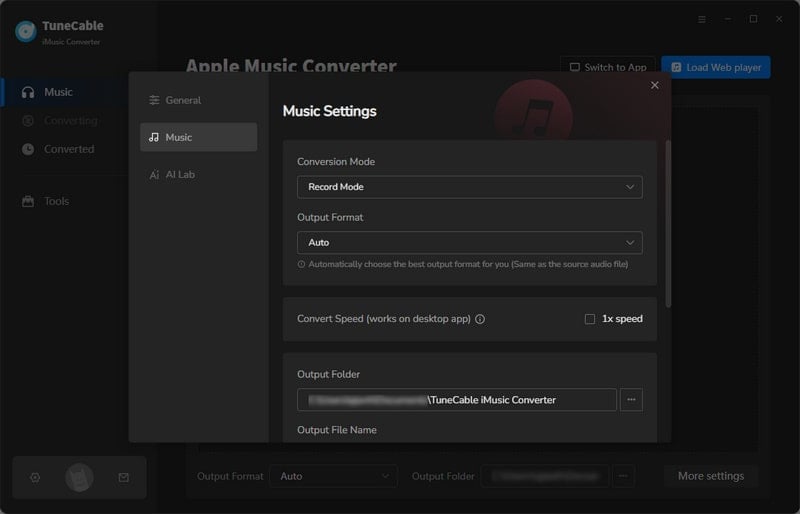 Step 4 Start Converting Apple Playlists and Check Downloads on the Local
When all the preparations are done, press the "Convert" button to start converting the songs or playlists. When it is finished, you can check them in the local folder on your computer.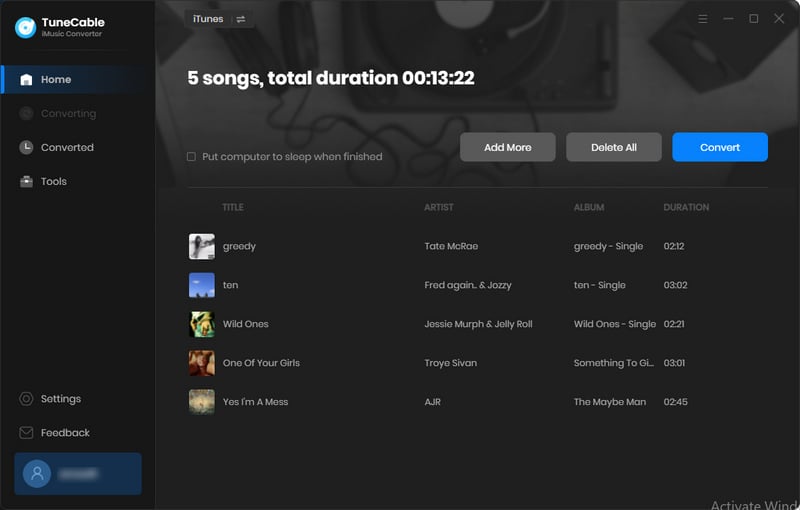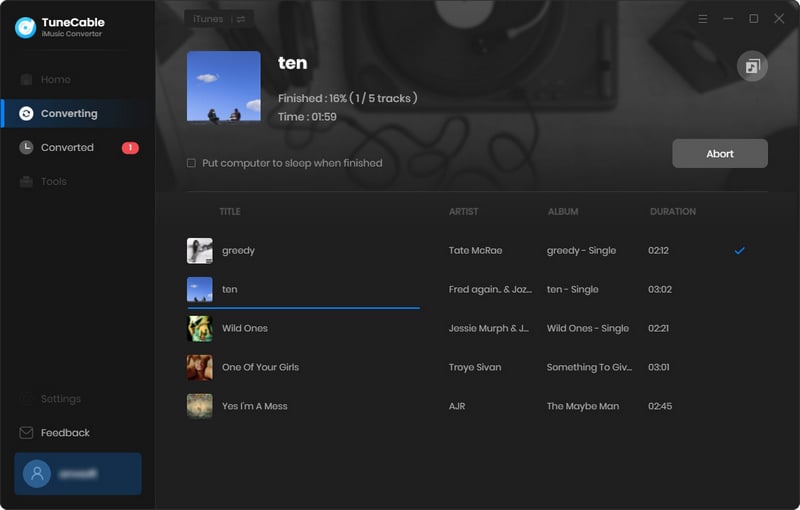 Step 5 Upload Apple Music Playlists to Spotify
Open your Spotify app, click on your profile avatar to select "Settings". Turn on the button in the Local Files part. Make sure the two buttons in the Show songs from section are both turned on too. Click on "Add a source" and navigate to select the output folder through the pop-up window. Then go to Your Library on the Spotify app. Select the Local Files part, and you will see the uploaded songs. In this step, the songs and playlists of Apple Music are successfully transferred to Spotify. You can play them wherever and whenever.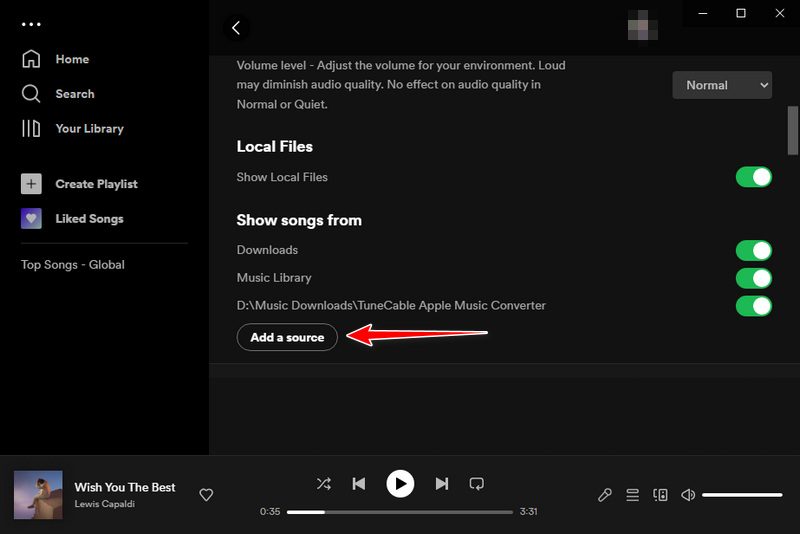 ---
Summary
In this article, we present a thorough comparison of Apple Music and Spotify covering their music library content, sound quality, price and benefits, music discovery and recommendation features, cross-platform availability, social features, exclusive content, and user interface. Ultimately, the decision on which is better for you depends on your personal preferences.
Furthermore, we provide an additional tip on transferring Apple Music playlists to Spotify. This process is made simple with the assistance of TuneCable Apple Music Converter, a comprehensive program designed for handling Apple Music songs. Not only can it help you upload Apple Music to Spotify, but it also enables you to download Apple music to your computer and convert it to WAV and other plain formats. Give it a try if you find it useful. TuneCable offers a trial version.
---
What's next? Download TuneCable iMusic Converter now!
---