Subscription music services are a favored way to update your playlists and record some classic. Amazon Music boasts 75 million songs online and we especially love its general downloaded offline playback. Being an Amazon Music Prime or Unlimited, you will be entitled to listen Amazon Music offline. While some truths are actually downsides indeed. Prime Music and Amazon Music Unlimited songs are only accessible with the Amazon app. It is no way for you to play Amazon Music offline on other apps and devices. Even though you are permitted to authorize at most 5 different devices with your Amazon Prime account, log in and log out is kind of a tedious process. So we today, we are dedicated to a method to listen to Amazon Music offline playback on Android native music players. This way can be applied to iPhone, iPad, iWatch, computer and mac computer as well.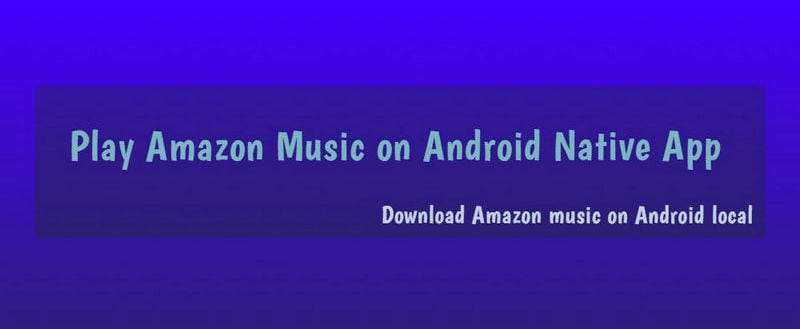 Before you convert: offline playback, music playable on Amazon Music platform only, 5 devices supported at most.
After you convert: permanently own Amazon Music on local folder, offline playback, various formats supported, export and transfer to multi-music players, manageable features like ringtone on phone and computer
---
Part 1: Offline stream Amazon Music on Amazon Music app
Offline-play is only available to Amazon Prime membership, or those with a subscription to Amazon Music Unlimited. If you just want to listen them on the App, check the following steps to a offline playback:
Step 1:Open the Amazon Music app on your Android phone
Step 2:Tap on the "My Music" tab at the bottom of your screen.
Step 3:Tap the three dots to the right of any artist, album, or song. You can also tap the three dots when playing a song, found in the upper-right corner.
Step 4: Tap "Download" to download music for offline listening. It will be added to your download queue.
Step 5:Tap to any downloaded song to play it when you're on the go. Downloaded songs will have a checkmark next to them.
---
What can literally download Amazon Music to local path?
For Amazon Music service, download music to offline play doesn't mean owning it. Amazon Music Recorder is used to download Amazon Music to local path and permanently save it for offline playing. TuneCable offers MP3, AAC, WAV, FLAC, AIFF, ALAC options to convert Amazon Music as the format you need. So you can play them on diverse music players. TuneCable Converted Amazon Music can apply to native music apps on Android, iOS, Window, MacOS computer, and all kinds of 3-party audio player. Regular version update is on, follow TuneCable Facebook to receive notification thereafter.
Key Features of TuneCable Amazon Music Recorder:
Various formats provided to convert: MP3/AAC/WAV/FLAC/AIFF/ALAC
Save Amazon Music locally and permanently available to play
Remain the ID3 Tags information after audio conversion
Easy to export and transfer to 3-party music players
Able to customize the converted Amazon songs as Android ringtone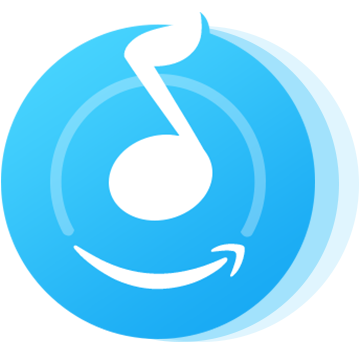 Part 2: Download Amazon Music into computer local path
Preparation: Download and install Amazon Music Recorder on computer in advance. Two TuneCable Amazon Recorder versions are available on computer. They are Window version and Mac version.
Step 1: Lunch TuneCable iMazon Recorder
Launch TuneCable iMazon Recorder and the Amazon Music app will be opened automatically at the same time.
Step 2: Customize the converting Settings of Amazon Music
Tap the Settings switch upper right the menu. Select the output format (MP3, AAC, WAV, FLAC, AIFF, ALAC) you want to convert. Following, customize the output quality (128kbps, 192kbps, 256kbps, 320kbps), local path and folder on computer, and the music titles orderd by Artist, Album, Artist/Album, Album/Artist. It is better to give a catchy name on your local folder, so you can find them in a minute.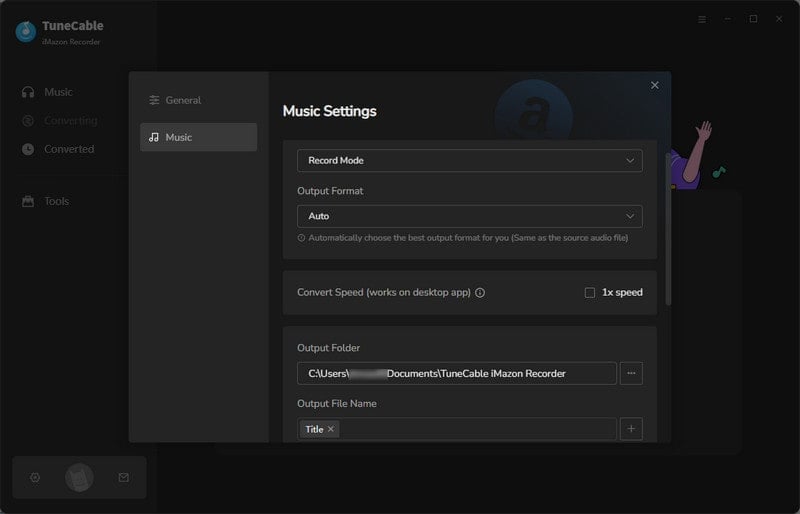 Step 3: Import Amazon Music Track to Convert and Download
Click the Add button to open the pop-up window which prompts you to drag and drop songs or a playlist from Amazon to TuneCable. TuneCable would read the Amazon Music automatically. Check the Amazon songs that you'd like to export to your local computer and then click OK.
Step 4:Start Downloading Amazon Music
Click the Convert button and TuneCable would soon start exporting the Amazon Music to the local drive. As long as it all done, navigate to "Converted" section to check for your converted Amazon Music files. To go into the files in local path, tap the folder icon then you can be guide to the converted songs on your computer. Now, you can play them with your Window Media player.
---
Part 3: Transfer Amazon Music to Android Native Music App
At the moment, you have successfully converted and downloaded Amazon Music from the platform to local path. It means to more manageable features adding to a local file. So you can simply transfer them to an Android phone and play them on any Android native music player or app.

Syncios MobiTrans Free is easy to migrate data between PC and mobile phone. Plug the phone to computer and then preview all your Android data on computer, including music, video, photos, messages, contacts and more. Plus, check more local files on Android under the File section on Syncios MobiTrans Free.
Step 1:Launch Syncios MobiTrans Free and connect to an Android phone via USB cable. USB Debugging mode and Syncios Apk installation are required when Android works with MobiTrans program.
Step 2:Enter 'Music' management then tap 'Add' button to import the previously converted Amazon songs on computer local path. Finally tap on OK when Syncios MobiTrans then sync the songs to your Android phone. When all is done, disconnect your Android phone.
Step 3:On your Android phone, run the free music app built in Android. (In most case, people use Google Play Music app for playing local music. You can play as many as songs on your Android native music player.) Then you will see all the TuneCable converted songs on the to-play list. If not, you can manually add songs from your Android personal music collection to it. Now, it is your real time to enjoy them.