AAC(Advanced Audio Coding) offers an incredible audio experience, delivering top-notch quality through lossy and compressed sound. Boasting improved fidelity when compared to MP3s at the same bit rate, AAC has quickly become a go-to format for streaming music on popular platforms such as YouTube, iPhone/iPod/iPad devices, Apple iTunes and Tidal Music - making your listening experience one you won't forget!
With Tidal's wave of innovative technologies, music lovers can finally experience their favorite songs as if they were straight from the studio. This is achieved by ultimately compressing digital music without limits, allowing subscribers to access never before heard audio experiences. To make sure that the song stays within the Tidal app and so it cannot be copied or shared, downloaded tracks are encrypted files that remain restricted playback.
Sadly, this also means that those who are hoping to download the songs as AAC files and enjoy their tracks offline often feel stuck. However, by using a reliable Tidal Music Converter such download requests can be easily obtained. Now we have an easy way of directly downloading our favorite music as AAC files for offline playback on any device.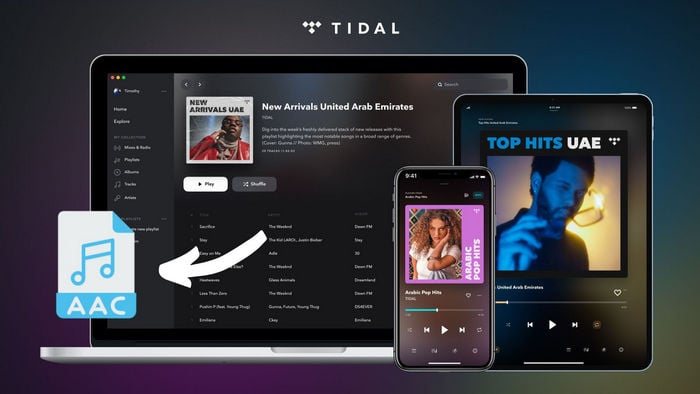 ✅ Part 1: Why Convert Tidal Music to AAC?
💡 Why Choose AAC over MP3:
MP3 has long been the industry standard for digital audio players, but Advanced Audio Coding (AAC) looks to be its successor. Both AAC and MP3 are flossy formats that utilize compression technology in order to create smaller file sizes with no sacrifice in sound quality. While there isn't a huge difference between these two when it comes down to sound capabilities, AAC offers superior performance at low bit rates compared to MP3; making brighter and more transparent sounds possible while keeping any slurry-ness at bay below 128 kbps.
| | | |
| --- | --- | --- |
| | AAC | MP3 |
| File extension | .m4a, .m4b, .m4p, .m4v, .m4r, .3gp, .mp4, .aac | .mp3 |
| Portability | All Apple devices but not all audio players. | Virtually all music players. |
| Algorithm | Lossy Compression | Lossy Compression |
| Quality | AAC offers better quality than MP3 at the same bitrate, even though AAC also uses lossy compression. | MP3 offers lower quality than AAC at the same bitrate. |
💡 Why Convert Tidal Songs to DRM-Free AAC:
Looking for a way to access your favorite Tidal HiFi tracks offline? Unfortunately, downloading from this streaming service isn't an option - unless you've got the premium subscription. Even then, however, playing these tunes outside of the dedicated app is impossible without first converting them into AAC or another compatible audio format. So if it's high-quality music playback on-the-go that you're after; make sure conversion real is key! After converted TIDAL songs to DRM-Free AAC files, you can explore more usages of the Tidal songs:
Offline playback of the Tidal music on multiple mobile devices.
Keep downloaded Tidal tracks after canceling the Tidal subscription.
Import Tidal Music albums or playlists to various AAC-supported music players.
Share your favorite Tidal playlists with your friends or family.
Add Tidal songs to any DJ software or video editor for multiple usage.
---
✅ Part 2: Convert Tidal Music to AAC Format
TuneCable iTadal Music Converter is considered a Tidal music converter that helps you download Tidal songs, albums, playlists and podcasts. It supports ripping music from Tidal in popular formats, such as MP3, AAC, FLAC, WAV, AIFF, and ALAC.
With TuneCable, you can easily sort downloaded Tidal songs by artist, album or playlist for better music management. This program executes converting in batches with the full ID3 tags kept. And the rapid conversion speed will not reduce any audio quality, even when extracting songs in master quality.
Now, let's check the detailed guide on how to download Tidal Music tracks, albums, and playlists as AAC files.
Key Features of TuneCable iTadal Music Converter:
Download Tidal songs, albums, and playlists to local computer.
Download ad-free Tidal files offline with Tidal Free/Tidal HiFi/Tidal HiFi Plus account.
Convert Tidal music to common MP3/AAC/WAV/FLAC/AIFF/ALAC format.
5x Faster speed to batch convert several Tidal playlists.
Permanent playback of the Tidal music after the conversion.
Play downloaded Tidal songs on mobile phone, SD card, USB flash drive, portable player, wearing gadget, etc.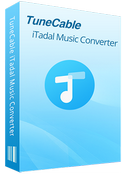 Step 1: Initiate TuneCable Tidal Music Converter on PC.
Run TuneCable TuneCable Tidal Music Converter after the installation. You are allowed to download music from the Tidal app or Tidal web player.
If you choose to download music from the Tidal app, navigate to the left module and click on it. At the moment, the pre-installed Tidal Music app will start automatically. If you have not installed the Tidal Music app on your desktop computer, then you should get it downloaded from Tidal's official website now. Then you can get back to this step.
If you choose to download music from the web player, navigate to the right module and click on it. Soon after, the Tidal web player window will pop up.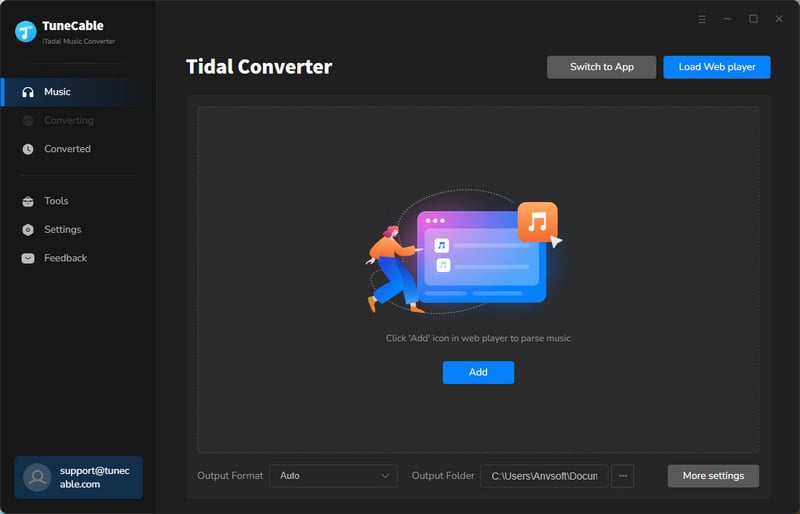 Step 2: Alter the Output Parameters
Before performing a conversion, we'd better adjust the output parameters. Click the "Settings" button in the left side of TuneCable. Soon afterward, a setting window pops up. Simply choose AAC under Output Format option.
Changeable Output Settings:
Conversion Mode: Intelligent Mode, Spotify Record/Web Download, YouTube Download
Convert Speed: Can be adjusted from 1x to 10x under Spotify Record conversion mode
Output Format: Auto, MP3, AAC, WAV, AIFF, ALAC, FLAC
Bit Rate: 128kbps, 192kbps, 256kbps, 320kbps
Sample Rate: 44.1kHz, 48kHz, 96kHz, 192kHz
Output Folder: To your preference
Output File Name: Track Number, Title, Artist, Album, Playlist Index, Year
Output Organized: None, Playlist, Artist, Album, Artist/Album, Album/Artist, Playlist/Artist, Playlist/Album
Tips You Should Pay Attention:
If you want to download Tidal Music tracks in Max quality, you should choose "Tidal Record" in the "Conversion Mode" setting. Then go to the "Output Format" setting, and choose "AUTO". This "AUTO" option helps you save the Tidal tracks in the original formats and original quality. And you should select the Max-quality Tidal songs to download.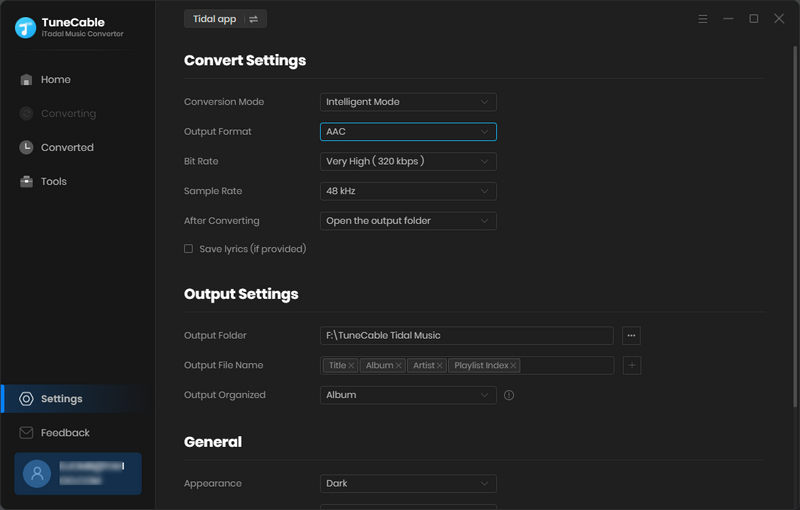 Step 3: Add the Wanted Tidal Tracks to TuneCable
Log into your Tidal Music account. All Tidal plans, including the free account, are supported. If you download music from the Tidal app, open a Tidal song, album, or playlist, copy and paste the URL into TuneCable search bar, or you can directly drag it to TuneCable for parsing. TuneCable will load the songs immediately.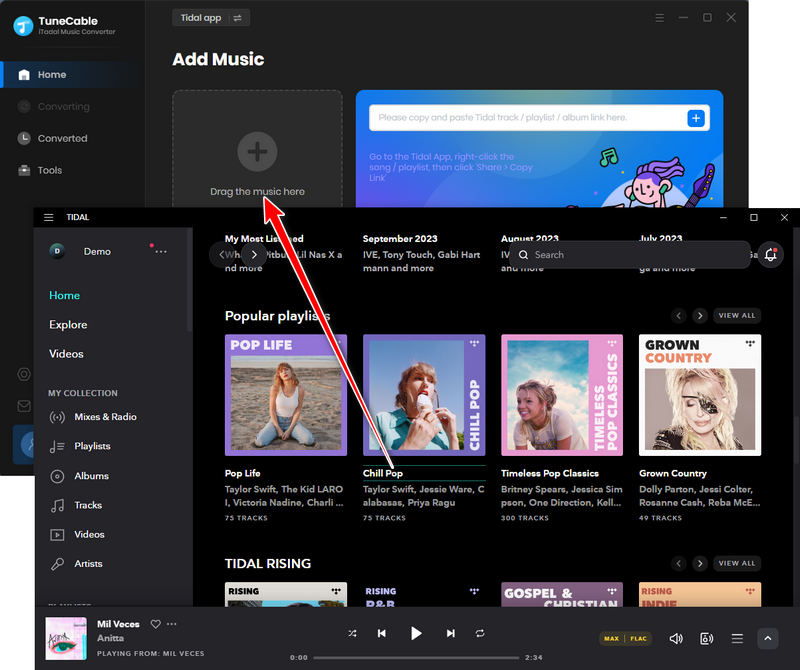 If you download music from the web player, go to the web player and then open an album or playlist, then hit on the "Click to add" button in the lower right to load available tracks.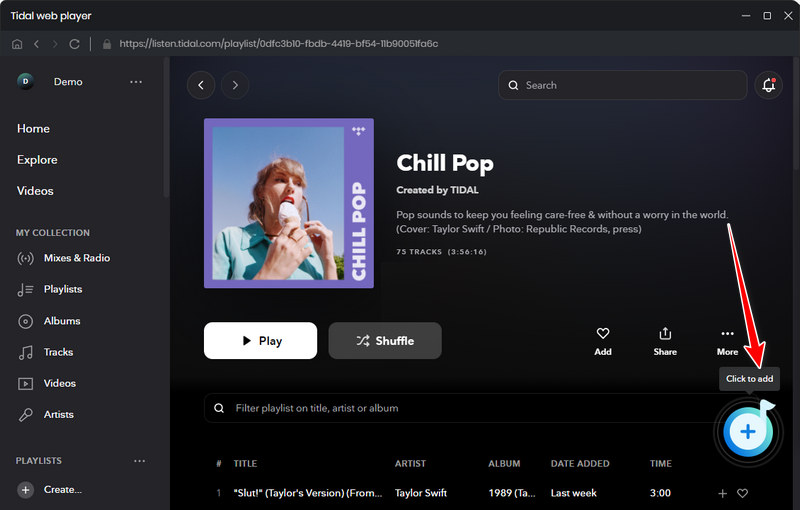 Select songs from the music list, then click "Add" to add them to the download list.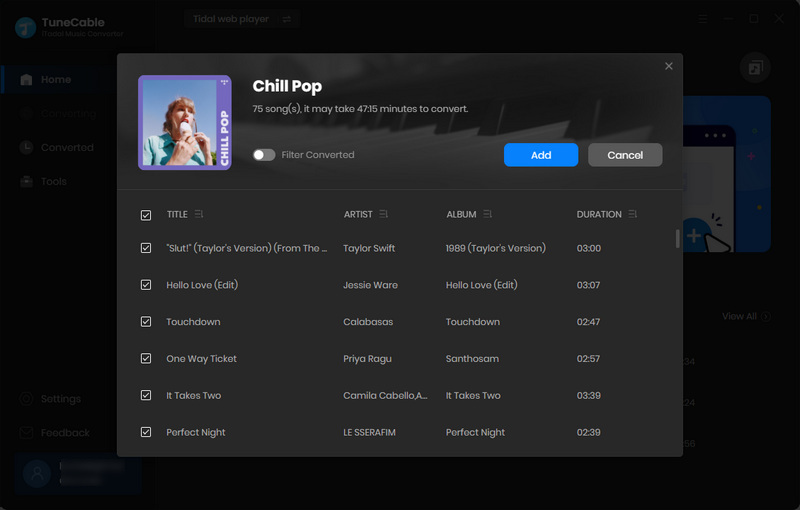 Step 4: Download Tidal Music to Local Files in Lossless AAC
Start the conversion by clicking on the "Convert" button. After the Tidal songs are downloaded successfully, the download folder will pop up automatically. You can also find the download Tidal songs under the "Converted" column from the left panel. The Tidal songs will be converted to unencrypted AAC files with all ID3 tags kept.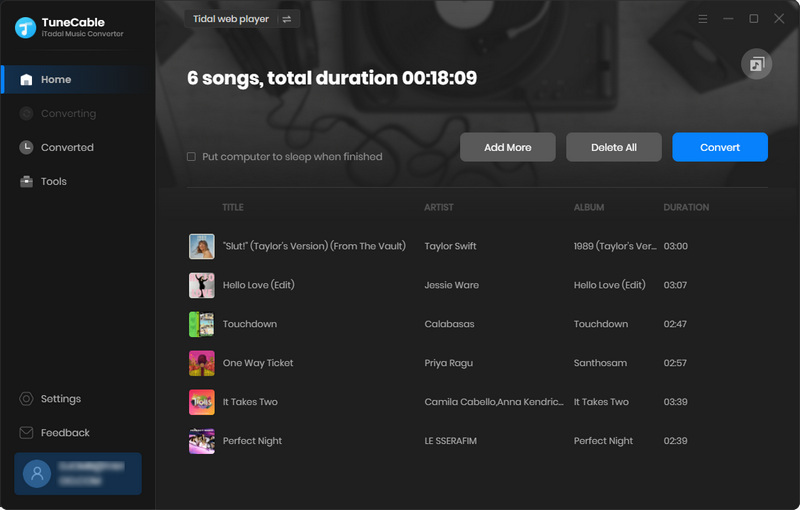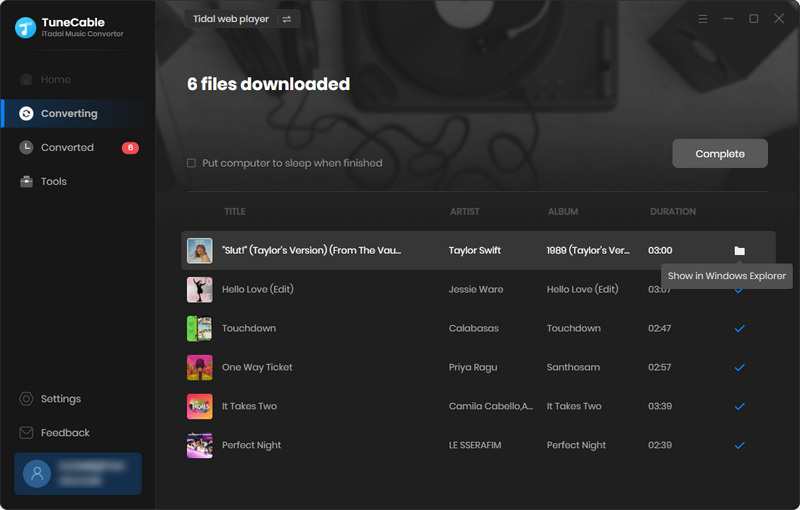 ---
It is never easy to get AAC TIDAL downloads. We all know Tidal Free account allows you to enjoy 160 kbps AAC songs, however the download feature is not available for free users. If you want to get high-quality AAC songs from TIDAL, TuneCable iTadal Music Converter will be a good choice. It helps you download TIDAL songs, playlists, or albums, then convert the tracks to AAC files with original audio quality and iD3 tags kept. Once downloaded, you can save the Tidal songs on local device and play them offline anytime you want, even after the subscription ended.