☑ Part 1: Get Tidal Lyrics on Mobile & Desktop
Tidal's lyric feature has music enthusiasts rejoicing! As if their already impressive platform wasn't enough, they've now added a lyrics option that comes in two modes: landscape and portrait. No more straining your eyes or squinting at words, Tidal has made it easier for listeners to enjoy music and even sing along. The lyrics appear as you play the song, and with the added advantage of adjusting the speed with a scroll, you can now go at your own pace. Tidal Hi-Fi and Tidal Hi-Fi Plus subscribers have access to this feature Tidal desktop app, web player and mobile app.
How to See Tidal Lyrics on iPhone/Android
Step 1: Update your Tidal app to the latest version, then log into your Tidal account on your iPhone or Android phone.
Step 2: Search for the Tidal song you want to see the lyrics.
Step 3: Tap the lyrics icon on the Now Playing screen. At the bottom of the page, you will see a sync button.
Step 4: Tap the sync button, and the song's lyrics will appear to you.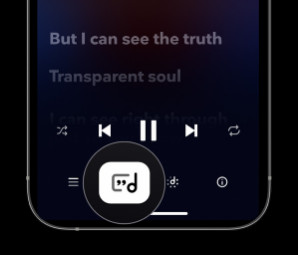 How to See Tidal Lyrics on PC/Mac
Step 1: Open the Tidal app on your computer and log in to your Tidal account.
Step 2: Search and play a Tidal song that you want to get the lyrics.
Step 3: Click on the album cover to maximize the Playing window. Click on the Lyrics icon at the bottom of the playing screen.

Step 4: The lyrics of the selected song will appear to you in a new pop-up window. You can easily read the lyrics while listening to the song.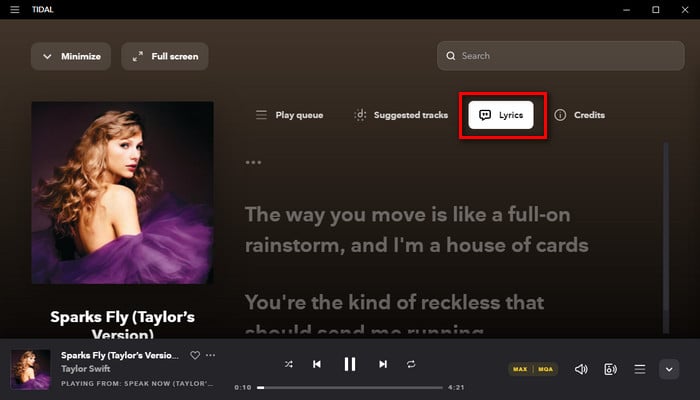 ---
☑ Part 2: Download Lyric Files from Tidal
Have you ever been listening to a song on Tidal and wished you could have the lyrics right in front of you? Having quick access to the lyrics can really enhance your listening experience. Although Tidal does not provide an official option for downloading lyrics, there is a workaround that can help. With a few simple steps, you can download the lyrics and have them right at your fingertips. No more pausing and rewinding to catch a word or phrase, now you can have the complete experience right on your computer.
TuneCable Tidal Music Converter is a music converter tool that helps you convert any songs, playlists, or albums from Tidal to various formats such as MP3, AAC, WAV, and FLAC. Additionally, this TuneCable program can fully preserve the lyric files of Tidal music. In this case, you can not only download Tidal music for offline listening but also sing along with the timed lyrics.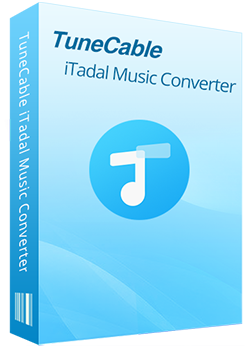 TuneCable iTadal Music Converter

🔹 Download songs, playlists, albums, and podcasts from Tidal.

🔹 Convert Tidal tracks to MP3, AAC, FLAC, WAV, AIFF, and ALAC.

🔹 Preserve original Hi-Res/CD audio quality and full ID3 tags.

🔹 Proceed with Tidal songs in bulk at up to 10x fast speed.

🔹 Sort Tidal music files by playlist, artist, album, etc.

🔹 Save lyrics (.txt or .lrc) from Tidal music.
Step 1 Choose Audio Source
Download and install TuneCable iTadal Music Converter on your computer. From the main interface, you can see two options: Tidal app or Tidal web player. Tidal app has better audio quality (up to Hi-Res), while Tidal web player has faster conversion speed (10x). Just pick the audio source you like, and log into your Tidal account.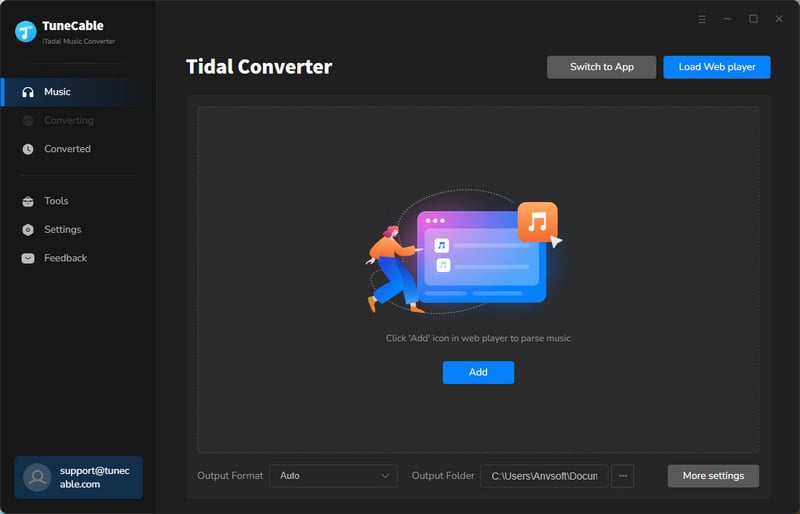 Step 2 Customize Tidal Output Settings as Needed
Go to the "Settings" option in the lower left corner of TuneCable interface. There you are allowed to customize the output settings for Tidal music, including audio format, audio quality, file name, etc. Make sure you have checked the "Save lyrics" option under settings.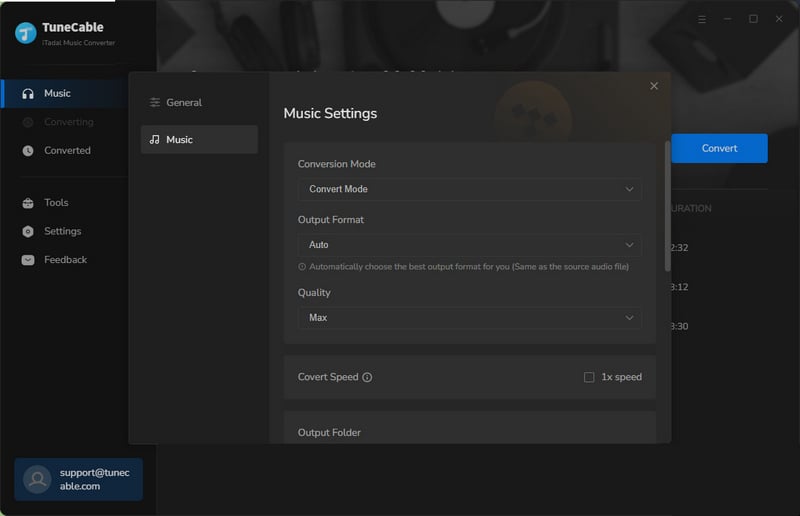 Step 3 Add Tidal Music to TuneCable
Now you can add songs from Tidal to TuneCable for downloading. The steps are different according to the audio source.
Download music from Tidal app: drag and drop the song/album/playlist from the Tidal app to the "+" box of the TuneCable interface. You can also copy the playlist/album URL into the TuneCable search box.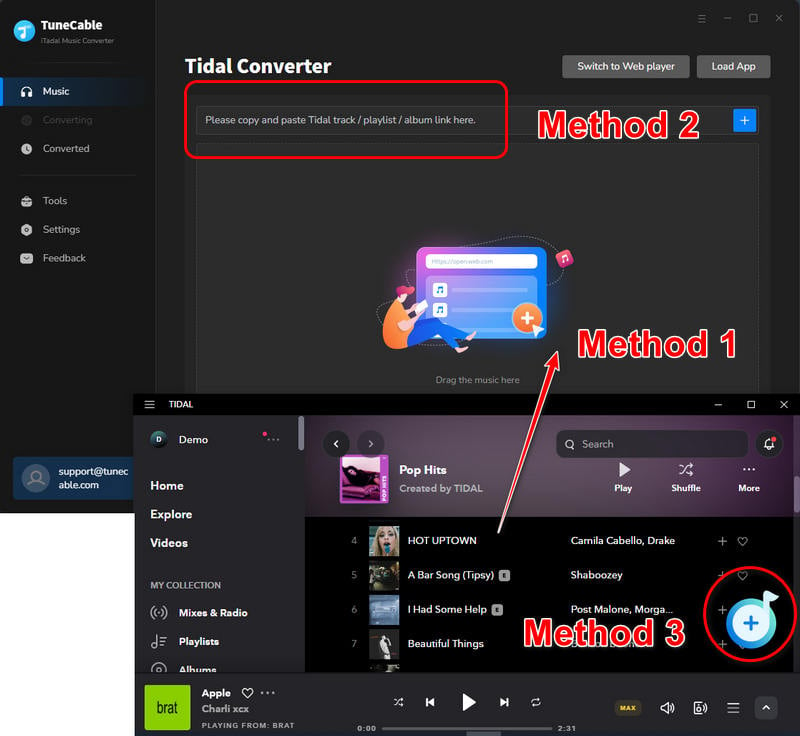 Download music from Tidal web player: open the playlist or album you want to download on Tidal web player, then click the blue "Click to add" button floating on the right side.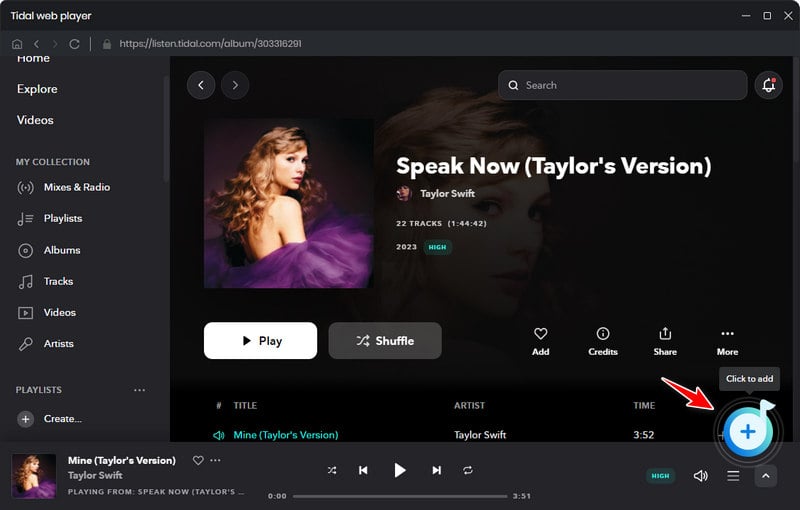 TuneCable iTadal Music Converter will parse the music link and list all songs on the pop-up window. Check the songs you want to download and click the "Add" button to enter the convert page.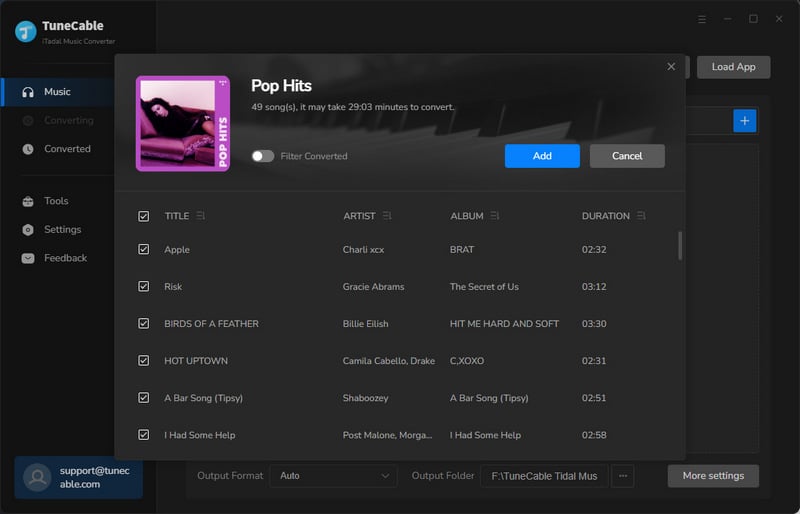 Step 4 Download Tidal Music and Lyrics
TuneCable proceeds batch music conversion with fast speed, you can hit the "Add More" button and add songs from other playlists and albums. Next, click on "Convert" to start downloading Tidal music. Tidal lyrics are downloaded in this progress as well.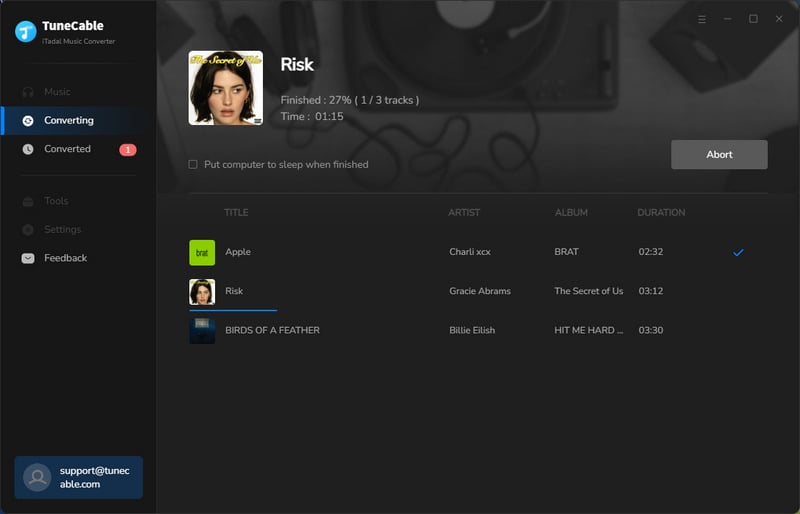 Step 5 Get Downloaded Tidal Music and Lyrics
After the conversion is complete, the download folder will pop up automatically. Both the songs and lyric files will be saved on the same path according to your settings. TuneCable allows you to download .txt or .lrc files from Tidal, it also depends on what kind of lyrics your songs support. If there is no lyric for your song, then you can check the FAQ list below.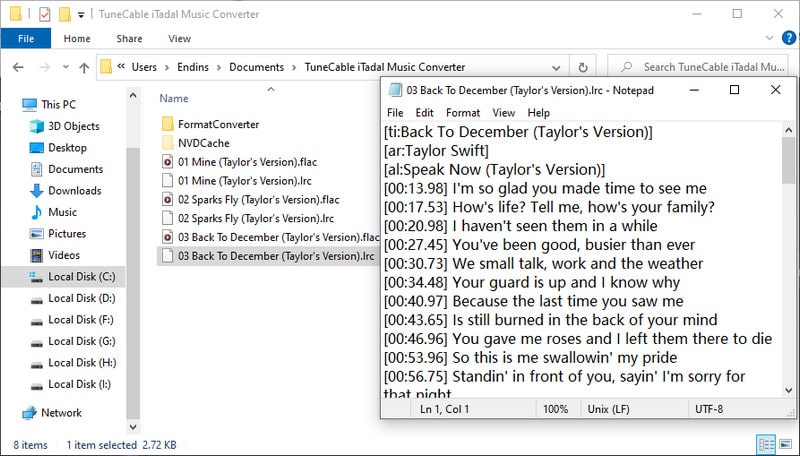 ---
✅FAQs about Tidal lyrics
Q1: What to do if I don't see lyrics?
TIDAL gets lyrics from Musixmatch. If there are no lyrics on your favorite song, that means they don't have it in their database.
If you can't see lyrics on the same song but your friend could, then please make sure you update your app to its latest version on your device.
Q2: Can I see Tidal lyrics on the TV app?
Unfortunately, no. You can only access this feature on TIDAL's mobile apps (iOS and Android) and on desktop/web.
Q3: What languages are supported by Tidal lyrics?
Tidal lyrics are available in 41 languages: Afrikaans, Arabic, Azerbaijani, Bengali, Bulgarian, Chinese (Simplified), Chinese (Traditional), Croatian, Czech, English, Danish, Dutch, Filipino, Finnish, French, German, Greek, Hebrew, Hindi, Hungarian, Indonesian, Italian, Japanese, Korean, Malay, Mongolian, Nepali, Norwegian, Persian, Polish, Portuguese, Romanian, Russian, Serbian, Slovak, Spanish, Swedish, Thai, Turkish, Ukrainian, Vietnamese.
Q4: How to upload lyrics to Tidal?
Tidal imports lyrics from Musixmatch, so if there are no lyrics of your song, you can try submit lyrics via Musixmatch. Just get verfied as an artist on Musixmatch, and then you can add lyrics by following the guidelines. Download the Mausixmtach app on your phone and search for your song, check if the lyrics appear. Then connect the Musixmatch app to Tidal, click the "Play" button, then select "sync lyrics", scroll down the lyrical lines in time with the music. Once finished, you can enjoy your song with lyrics on Tidal.
---
☑ The Closing Thoughts:
If you are a Tidal Hi-Fi or Tidal Hi-Fi Plus subscriber, you can get song lyrics on Tidal. With this feature, you can enjoy the song's lyrics while listening to Tidal songs. We have provided you with the process of getting Tidal lyrics on your mobile and computers. Moreover, if you want to save Tidal lyrics to your local computer, we recommend using the TuneCable iTadal Music Converter. TuneCable enables you to download lyrics from Tidal as .lrc or .txt files, so you can play Tidal songs offline along with lyrics.